Side SPLITSCREENS – Part of our Triple SPLITSCREENS package – ROAD GLIDE Side SPLITSCREENS described in detail:
ROAD GLIDE Owners appreciate our Side SPLITSCREENS offering Rider Protection focused on the upper TORSO & NECK areas: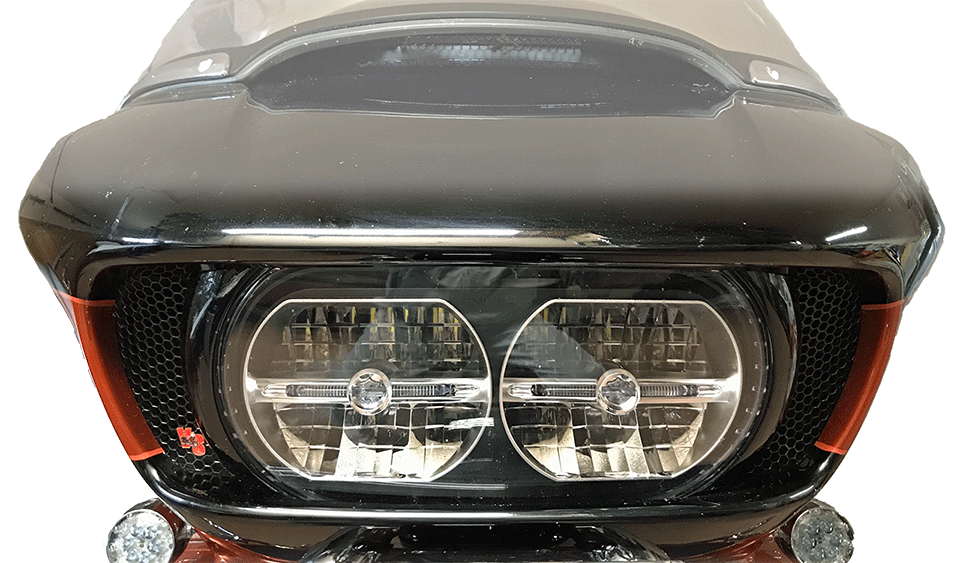 For Harley® Owners Desiring the Highest Quality Road Glide® Side Vent Screen Protection, our Side SPLITSCREENS* deliver important protection to the Riders upper TORSO & NECK areas! (*Part of our Triple SPLITSCREEN package)
Available in Powder Coated GLOSS BLACK or GLOSS SILVER Clear Aluminum Finishes
---
ROAD GLIDE Side SPLITSCREENS
Honeycomb SPLITSCREEN Pattern complements Twin-Cooled® Radiator Screen Guards on Lower Fairings of Harley® Touring Bikes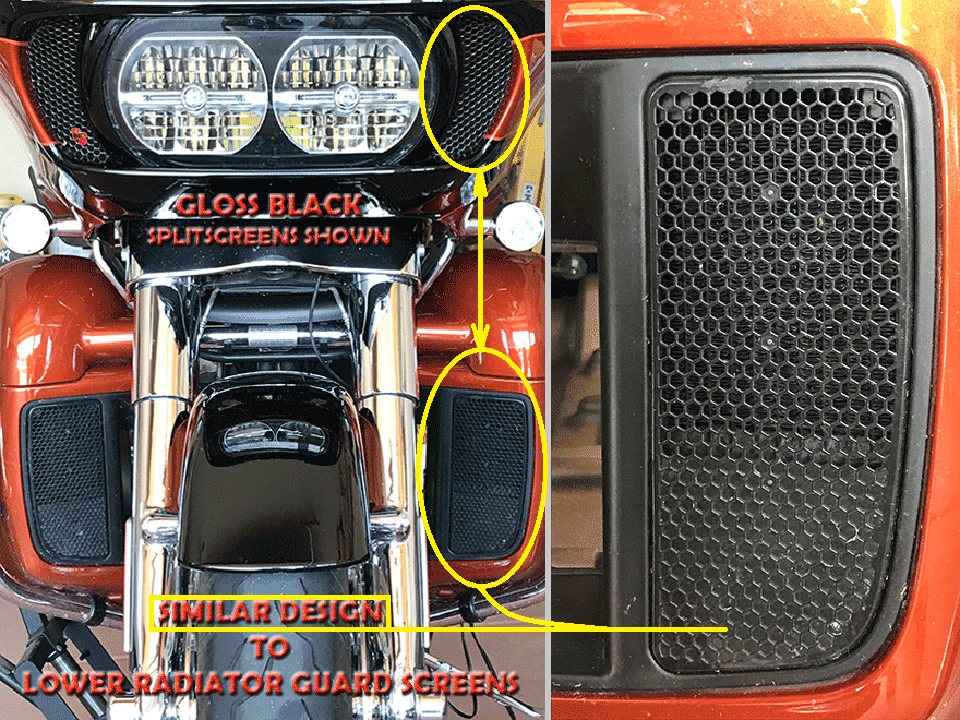 ---
Why Purchase your ROAD GLIDE Side SPLITSCREENS from Elegant Solutions Inc.? Because our screens are far superior and stronger than the screens from the current leading sales provider …….watch the "HAMMER TEST" video for proof:
TIP: After YouTube Playback Begins, click "FULL SCREEN"  at lower right of screen for best viewing.

We suspect the reason our major competitor (offering Side Screens only) uses that thin (almost flimsy) screen material is because it's so much easier to cut to shape. Our ROAD GLIDE SPLITSCREENS are so thick and strong they need to be precision cut using a CNC Plasma (computer controlled) cutting machine ……which produces an amazingly accurate cut. Bottom line, our customers benefit by receiving a far superior product!
---
A message from the President of Elegant Solutions Inc. dba Motorcycle Vent Screens: The Harley-Davidson® Road Glide® became my favorite touring motorcycle the first time I rode one! The "Shark Nose" frame mounted fairing offers both high speed stability cutting through the air at touring speeds as well as low speed maneuverability with the handlebars "free" of the weight of the fairing. My BSR (back seat rider) wife is extraordinarily comfortable riding with me and considers this bike to be a "limo on 2 wheels"! Elegant Solutions Inc. is not affiliated with Harley-Davidson®. The terms: Harley-Davidson®, Road Glide® and Harley® are trademarks of the Harley-Davidson® Motor Company. The 3-screen complete solution described herein is termed "Triple SPLITSCREEN(S)". "SPLITSCREEN(S)" and "Triple SPLITSCREEN(S)" are terms coined by Elegant Solutions Inc.