30 Days Satisfaction Guarantee
30 Days Satisfaction Guarantee: If upon receipt of our SPLITSCREEN(S), you can establish the product is defective or not as represented, you may return the unused product for a full refund (excluding shipping costs) after first providing Elegant Solutions Inc. dba Motorcycle Vent Screens the opportunity to assuage your concerns. Should we be unable to satisfy your reasonable expectations*, we will refund your purchase price (excluding shipping costs) upon return of the product in resaleable condition. We are quite reasonable and fair; please contact us for clarification of our policy details if concerned.
* The term "reasonable expectations" does not include assertions like: "changed my mind" or "didn't realize windshield and/or fairing removal was involved". Otherwise, in fairness, a 20% handling fee will apply.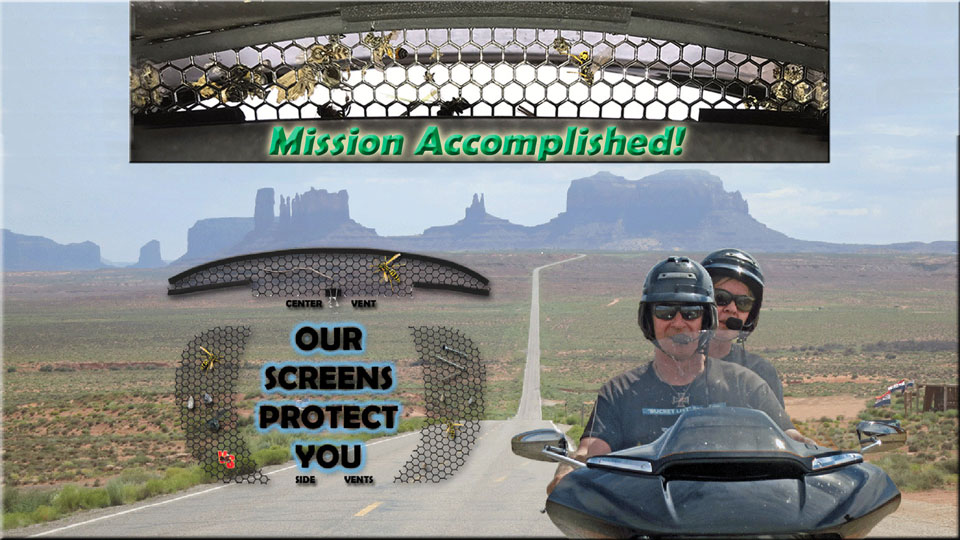 YOUR SATISFACTION MATTERS! We stand behind what we are able to control, i.e., delivering a high-quality product free of defects to our DIY customers. After years of feedback from both satisfied customers as well as the (very) few who've experienced issues, we are absolutely confident that faithfully followed video/written instruction-sets result in successful and reliable installations.
---
A message from the President of Elegant Solutions Inc. dba Motorcycle Vent Screens: My very first "Touring Bike" was a Batwing FLHTK Ultra Limited and I loved riding it. However, the Harley-Davidson® Road Glide® became my favorite touring motorcycle the first time I rode one! The "Shark Nose" frame-mounted fairing offers both high speed stability cutting through the air at touring speeds as well as low speed maneuverability with the handlebars "free" of the weight of the fairing. My BSR (back seat rider) wife is extraordinarily comfortable riding with me and considers this bike to be a "limo on 2 wheels"! Elegant Solutions Inc. dba Motorcycle Vent Screens is not affiliated with Harley-Davidson®. Terms such as: Harley-Davidson®, Road Glide® and Harley® are trademarks of the Harley-Davidson® Motor Company. They are only used here for descriptive, informational purposes and displayed either with the ® designation or in CAP's (an alternate method of displaying the "®" designation). The 3-screen complete solution described herein is termed "Triple SPLITSCREENS". "SPLITSCREEN(S)" and "Triple SPLITSCREENS" are terms coined by Elegant Solutions Inc.