SPLITSCREENS Purchase Process Previewed
For those preferring to know more before pressing the "BUY NOW" Button we offer the following:
---
4-STEP instructions: Click appropriate "Buy Now" (1) followed by "Add to Cart" (2) button(s); the Shopping Cart window will open showing the items you added. When ready to proceed with payment: Click "Go to Checkout" (3) and select either (manual) "Checkout" (4) or (automated) "PayPal Checkout" (4)
---
~ Visual Description of the Purchase Process using these "

action buttons

" in the sequence shown ~

---
SPLITSCREENS Purchase Process Previewed
The 4-Step Checkout Process is detailed below

*

complete with screenshots:
* Option #1: (manual) "Checkout Button" option is explained below:
---
STEP 1 (how your payment is

processed

)
Select your choice from the two Checkout Buttons

**

(options) which are offered for your convenience:
The "Checkout" button option is for Credit Card buyers who neither have (nor want) a PayPal account. Note that PayPal will still be involved, but only as an Electronic Payment (Credit Card) Processor. This option requires buyer to enter Payment/Shipping/Billing information manually; 

If you have a PayPal account (or wish to create one), the "

PayPal Checkout

" button option handily pre-populates Payment/Shipping/Billing information from your PayPal account:
(**NOTE: you will be using your Credit Card with either Checkout Option)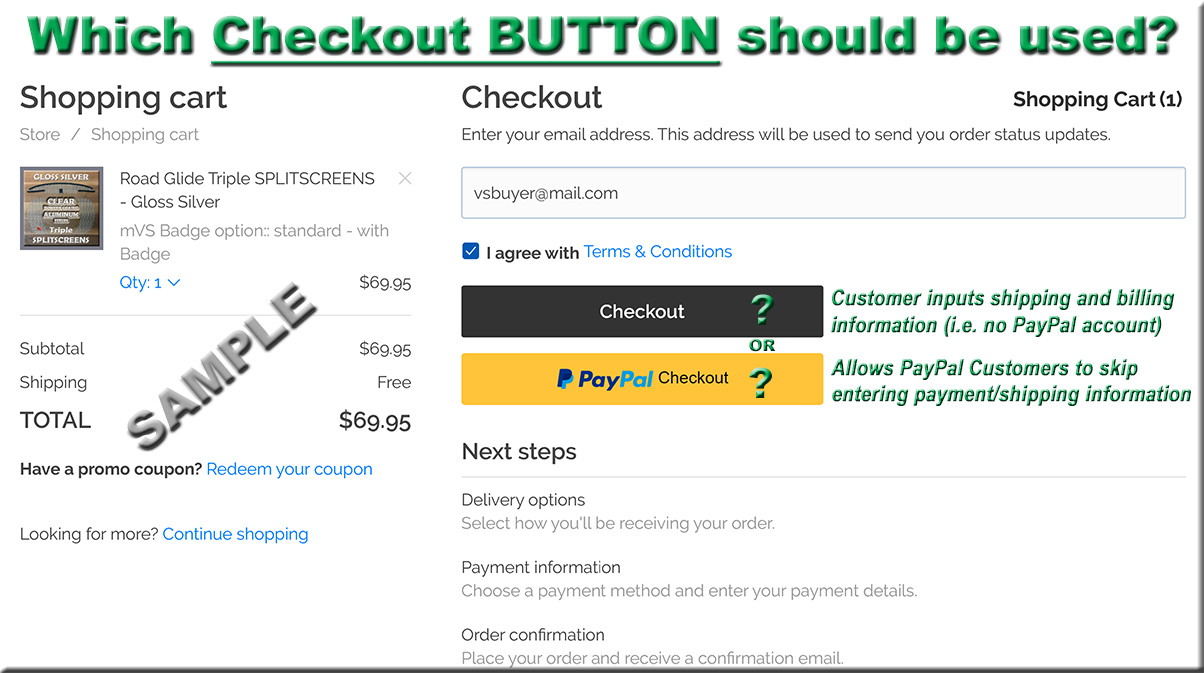 ---
STEP 2

(shipping & delivery details)
Clicking "Checkout" brings you to this next screen where you enter your shipping & delivery information. NOTE: If you clicked "PayPal Checkout", a PayPal popup screen would appear where you'd select how you want to pay from your stored payment methods. You'd then be returned to our checkout screen to complete your order.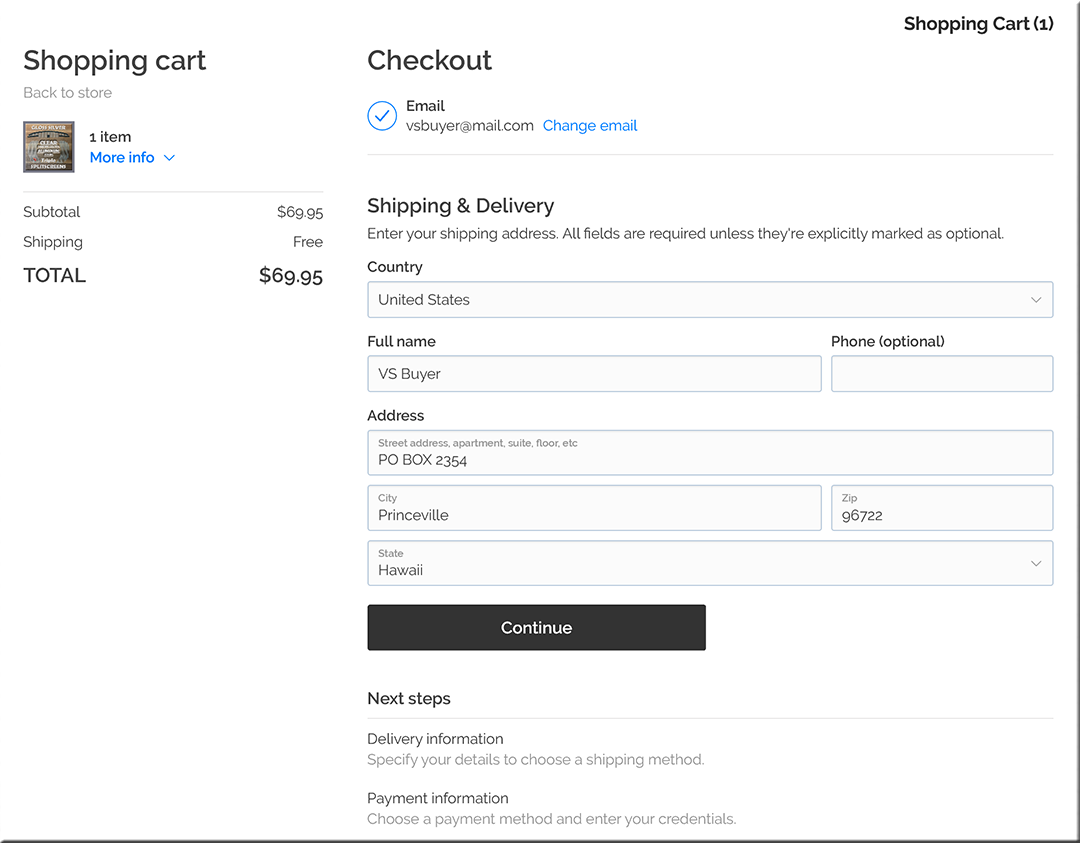 ---
STEP 2a (shipping method)
On the next screen, enter your shipping method (most USA buyers will select the "FREE Shipping to USA 50 States" option).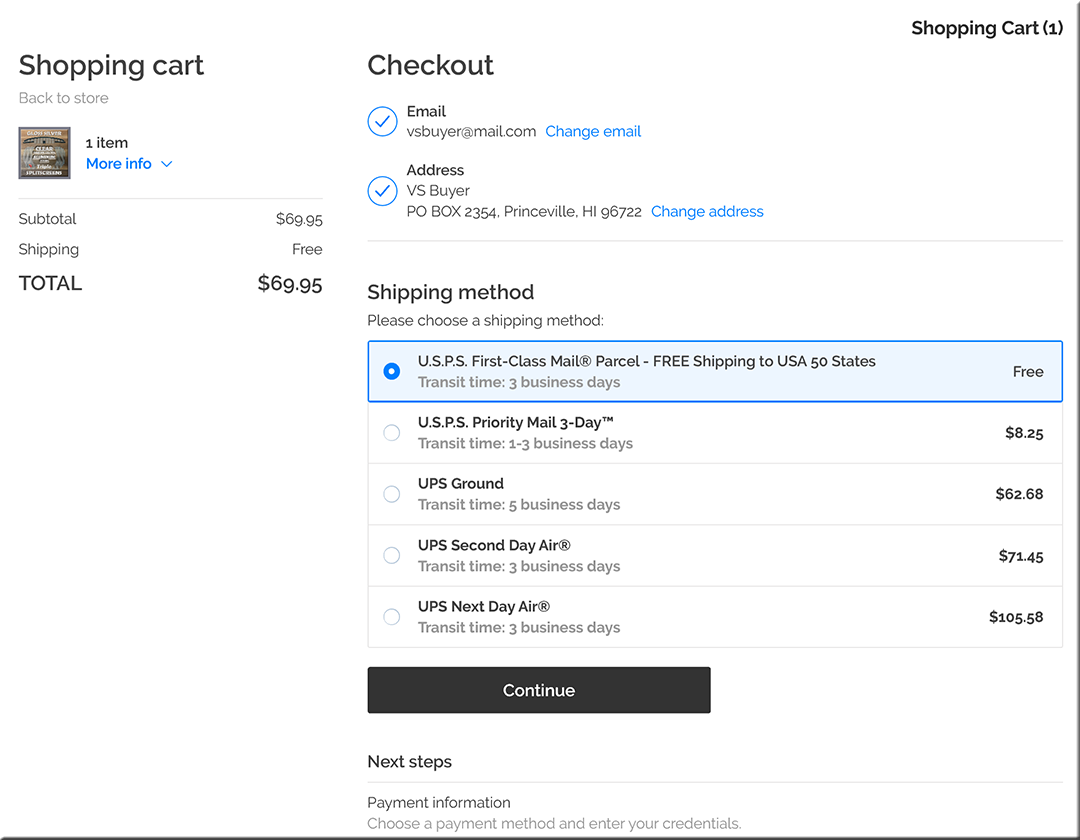 ---
STEP 3 (payment preference)
On the next screen, select your Payment Method. Most all buyers will use the default pre-selected "Credit Card or PayPal" option. Choosing "Old School" takes longer as the order doesn't ship until the emailed invoice is paid.
---
STEP 4 (credit card specifics entered)
The next screen will be a PayPal popup screen where you can choose to login to your PayPal account (or create one). Or you may select the "Pay with Debit or Credit Card" option (where PayPal will function as an "Electronic Payment Processor" like Stripe, Square, etc.). Choosing the Credit Card option will switch the popup screen to allow you to fill in your Credit Card information. You will not be charged any PayPal processing fees.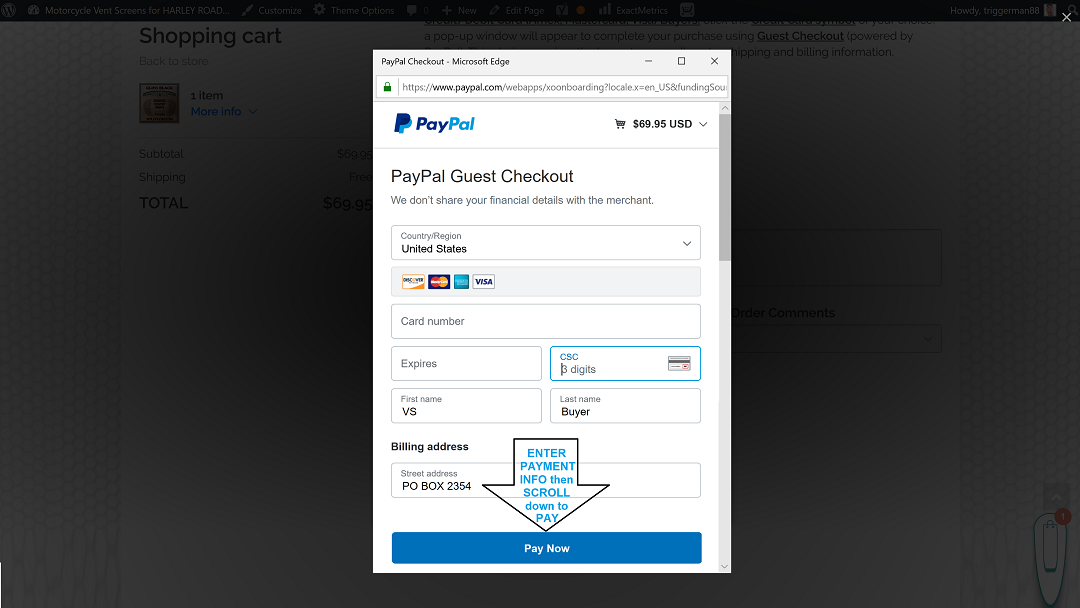 Please contact us if you want additional assistance
Thank you for your order!
---
Having problems with the purchase process?
"Old School" purchase option

: Click

CONTACT

to email or call us directly if you're having any issues with the purchase process. We can either talk you through your online purchase or email a PayPal invoice where you simply click a button to enter your payment and shipping information.
---
A message from the President of Elegant Solutions Inc. dba Motorcycle Vent Screens: The Harley-Davidson® Road Glide® became my favorite touring motorcycle the first time I rode one! The "Shark Nose" frame mounted fairing offers both high speed stability cutting through the air at touring speeds as well as low speed maneuverability with the handlebars "free" of the weight of the fairing. My BSR (back seat rider) wife is extraordinarily comfortable riding with me and considers this bike to be a "limo on 2 wheels"! Elegant Solutions Inc. is not affiliated with Harley-Davidson®. The terms: Harley-Davidson®, Road Glide® and Harley® are trademarks of the Harley-Davidson® Motor Company. The 3-screen complete solution described herein is termed "Triple SPLITSCREEN(S)". "SPLITSCREEN(S)" and "Triple SPLITSCREEN(S)" are terms coined by Elegant Solutions Inc.