ROAD GLIDE Bug Screens
Curious about exactly what's flying through those unscreened vents?
We were, so we installed a set of Triple SPLITSCREENS on our 2015 Road Glide® and took a performance evaluation road trip to determine if we really needed ROAD GLIDE Bug Screens. Photos 1&2 of the slide-show below show COMPELLING EVIDENCE of what was CAUGHT by our protective screens in only 10 hours of riding◊! Many of the INSECTS are potentially angry stingers which would have "visited" us via the 3 Stock (unscreened) Road Glide® Vents which are designed to "aim" controlled airflow at the rider's head and upper body! Beginning with the 2015 RUSHMORE Road Glide® fairings, Harley® referred to these 3 vents as "TRIPLE SPLITSTREAMS", an excellent design offering a turbulence-free cockpit. But Rider comfort is dramatically enhanced by installing our Triple SPLITSCREENS to "screen out" debris and large insects!
TIP: The SLIDE SHOW below is pre-set on "PAUSE". Hover your cursor over the images to display a full set of controls (PLAY/PAUSE/FORWARD/BACK). Pressing PLAY will cause the slides to auto-advance every 12 seconds:
Manually click FORWARD/BACK through each image at your own pace, or press PLAY>
◊NOTE: Our Triple SPLITSCREENS "collected" the insects in these photos on our 2017 Road Trip through the Western US and British Columbia in only 10 hours riding!
You seriously don't want the distractions of potentially angry insects crawling about in your clothing and/or headgear while operating a motorcycle!
---
HARLEY Motorcycle ROAD GLIDE Vent Screens – ROAD GLIDE Triple SPLITSCREENS – Batwing SPLITSCREEN
Should you want More Compelling Reasons to Order,
more detailed information is available on the RUSHMORE³ Fairing Design Flaw Page
³refers to the Harley-Davidson® "Project RUSHMORE" design improvements introduced beginning 2014 (2015 for the Road Glide®)
---
2017 Performance Evaluation Road Trip
For the curious, this is the Road Trip route which produced the ROAD GLIDE Bug Screens photos in only ten hours time-span of riding. As the trip progressed there were lots more bugs "captured" and cleaned off the screens. It certainly was a relief to not get stung on this 5500 mile road trip ……thanks to our Triple SPLITSCREENS!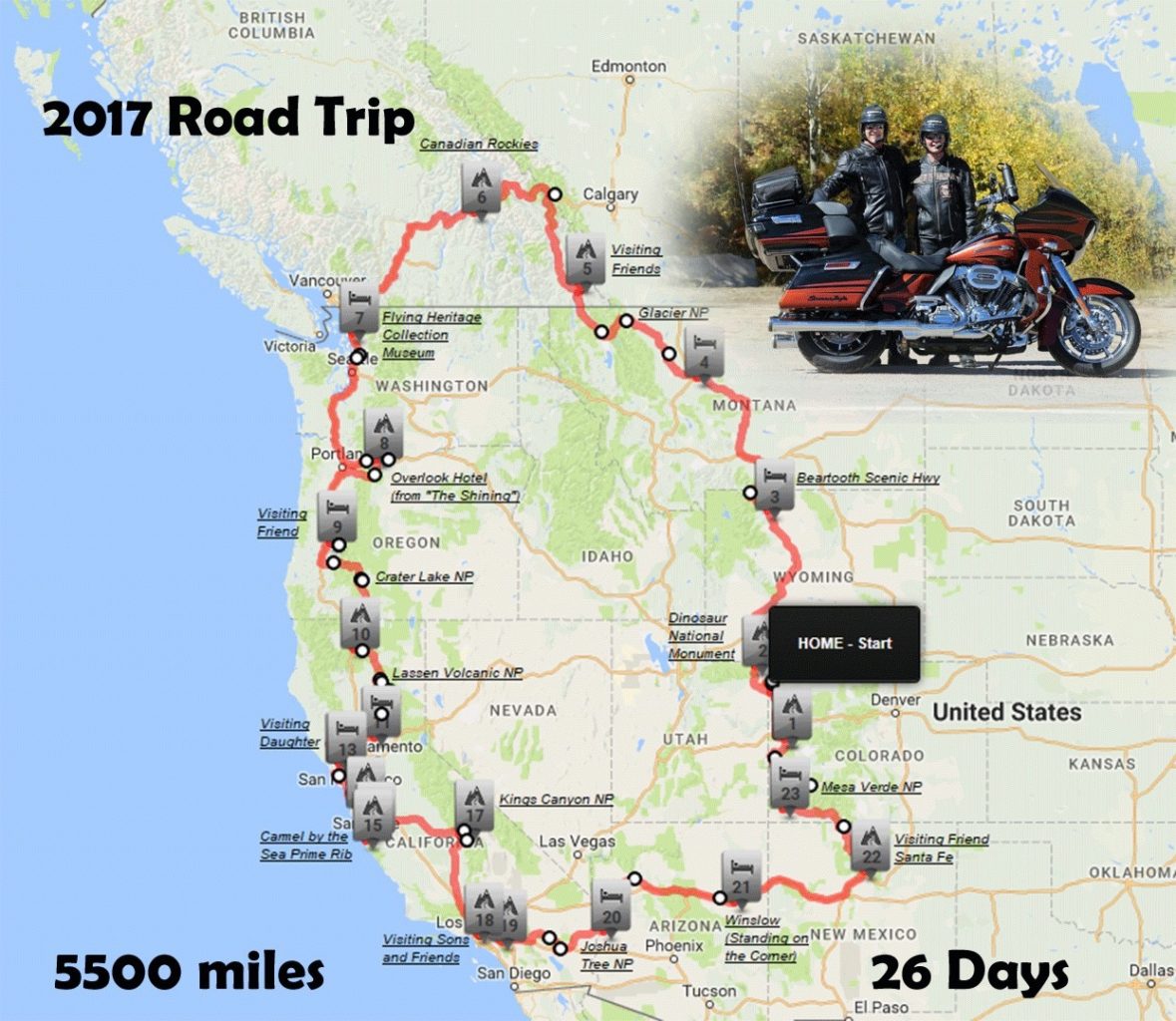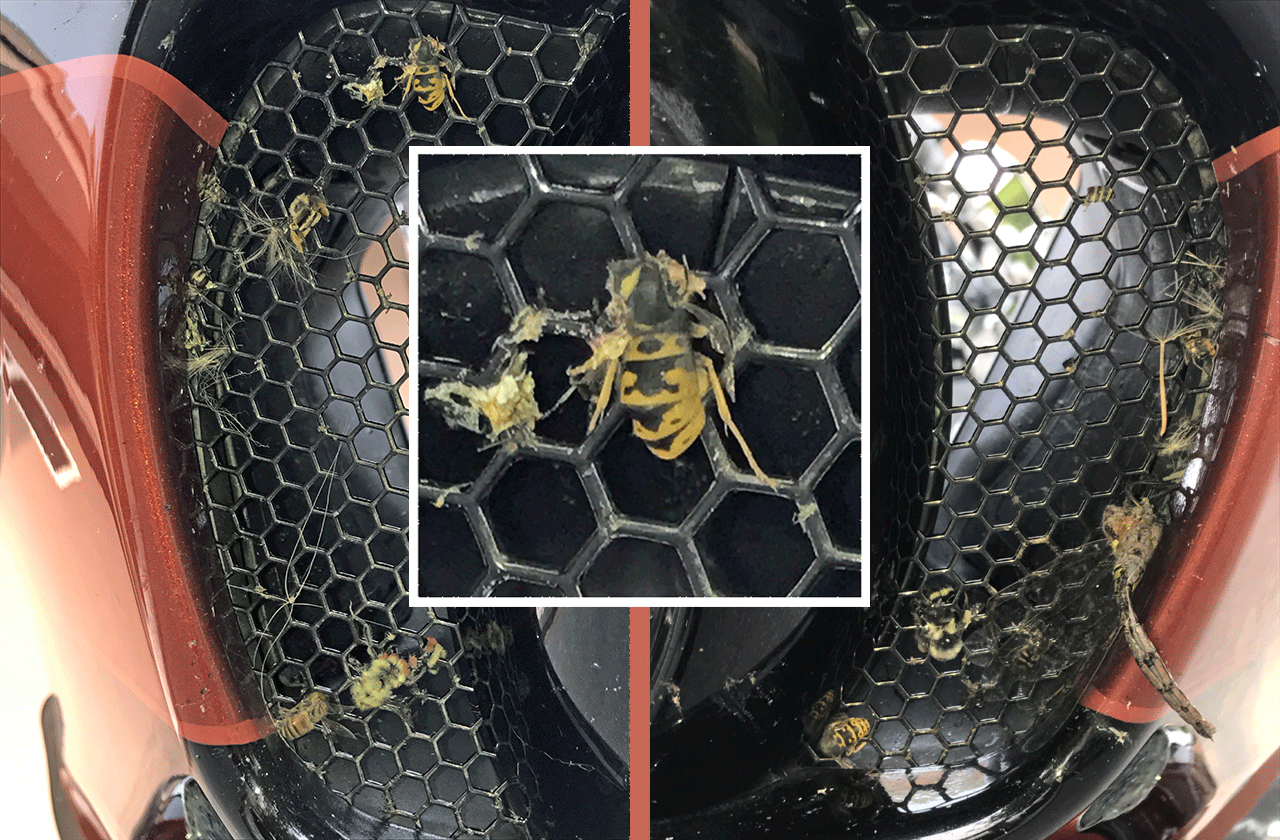 [space_20]ROAD GLIDE Bug Screens
The following is from our ABOUT page:
The INSPIRATION…
…to create these sturdy screens happened after our third road trip involving rider BEE/WASP STINGS. The first two stings just produced localized swelling, but the third sting produced very scary "tightness in my chest" symptoms. Turned out I am allergic to being stung by those critters …so I began carrying an EPI-PEN® …but that's a CRAZY EXPENSIVE solution!
When I realized there was only one major supplier of side vent screens (very expensive with no competition), and no major supplier of center vent screens, we formed Elegant Solutions Inc. to create a complete high-quality vent screen solution! While there are no guarantees you won't get "nailed" by something while riding a motorcycle …using our Triple SPLITSCREEN …you won't be victimized via the three fairing vents! These Road Glide® screens do provide excellent protection …and at a fraction of the cost of an EPI-PEN®!!!
These very high quality screens are now available to fellow Road Glide® owners at a very reasonable and fair cost …TREAT YOURSELVES!
---
We know you'll be delighted with these strong protective screens! Our screens are proudly made in the USA with materials manufactured here. We highly recommend either the Gloss Black Powder Coated finish or Gloss Silver Powder Coated finish screens because they're easy to clean and maintain. And depending on your bike's color, either finish looks wonderful! Please see our SPECIFICATIONS page for complete details.
---
A message from the President of Elegant Solutions Inc. dba Motorcycle Vent Screens: My very first "Touring Bike" was a Batwing FLHTK Ultra Limited and I loved riding it. However the Harley-Davidson® Road Glide® became my favorite touring motorcycle the first time I rode one! The "Shark Nose" frame-mounted fairing offers both high speed stability cutting through the air at touring speeds as well as low speed maneuverability with the handlebars "free" of the weight of the fairing. My BSR (back seat rider) wife is extraordinarily comfortable riding with me and considers this bike to be a "limo on 2 wheels"! Elegant Solutions Inc. dba Motorcycle Vent Screens is not affiliated with Harley-Davidson®. Terms such as: Harley-Davidson®, Road Glide® and Harley® are trademarks of the Harley-Davidson® Motor Company. They are only used here for descriptive, informational purposes and displayed either with the ® designation or in CAP's (an alternate method of displaying the "®" designation). The 3-screen complete solution described herein is termed "Triple SPLITSCREENS". "SPLITSCREEN(S)" and "Triple SPLITSCREENS" are terms coined by Elegant Solutions Inc.