ROAD GLIDE Vent Screens Installation Tips – Batwing Vent Screen Installation Tips
A warm welcome to our

fellow Open Road Brothers!

Your installation experience will be enhanced by thoroughly understanding and implementing the following instructions:
---
STEP #1

 – prior to shipment arrival, familiarize yourself with the installation procedure by accessing our Tutorials via the appropriate

SUPPORT

 Drop-Down Menus as described below:
---
MENU NAVIGATION Explained:

---
Each Primary Menu heading represents a clickable webpage. Hovering your cursor over Primary Menu headings with a Drop-Down symbol 🔽 will reveal Drop-Down Menus for access to additional important information. After reading and understanding this page, Road Glide® (frame-mounted fairing) customers please proceed to the two appropriate drop-down menu support pages for installation instructions. Note that the proprietary Center SPLITSCREEN Installation (LOGIN) page is for customers only (password provided post-purchase). Batwing (fork-mounted fairing) customers proceed to the Batwing drop-down menu page. NOTE: hover your cursor over many of our images to reveal additional information:

ROAD GLIDE Vent Screens Installation
---
STEP #2

 – before opening your package, familiarize yourself with the

contents of your shipment

so as to avoid inadvertently detaching the neoprene

Stabilizer Pad

from the installation template, or mistakenly discarding the Mini-Binder Spring Clip:
UNPACKAGING

(a Triple SPLITSCREENS order is depicted): Your order will arrive in a humble 9″ x 11.5″

stiff cardboard mailing envelope

containing the following items:
a neoprene rubber edge-trimmed

Center SPLITSCREEN

with

Mini-Binder Spring Clip

shipped within a

protective cardboard sleeve

which is attached to the

Stabilizer Pad Installation Template

with a pair of small paper clips. See

Important Handling Not

e

**

below;
a large "paperclip tool" (opened). This is a convenience item which is inserted into the drain slot in order to position the bottom edge of the Center SPLITSCREEN for clamping;
a pair of

Side SPLITSCREENS

shipped within a protective clear plastic bag. The m

VS

badge (or green dot) signifies "front";

**

IMPORTANT HANDLING NOTE: Please take care handling

†

the 5″x 6″ cardboard template which is used to position the Stabilizer Pad midway within the center vent (aka Air Duct Assembly or ADA).

†

handling: while removing template from shipping envelope

(or removing protective film to expose adhesive)

, take care to not disturb the neoprene Stabilizer Pad which is designed to easily detach from the cardboard template;
a

Mini-Binder Spring Clip

is attached to

Center SPLITSCREEN

inside the protective sleeve; do not discard thinking it's only a paper clip;
a packing slip, sales tax information and overview installation instructions;

Note

: during powder-coating, each screen is hung by a wire hook for spray coating followed by oven baking. It is normal to see an occasional small "bare spot" (hidden from view when installed) where the wire hooks were placed.
Please remove any rubber bands temporarily securing the freshly glued* neoprene rubber trim to the Center SPLITSCREEN. *a "convenience solution" to insure the (friction-fit) neoprene trim remained properly installed on the screen edge during shipping.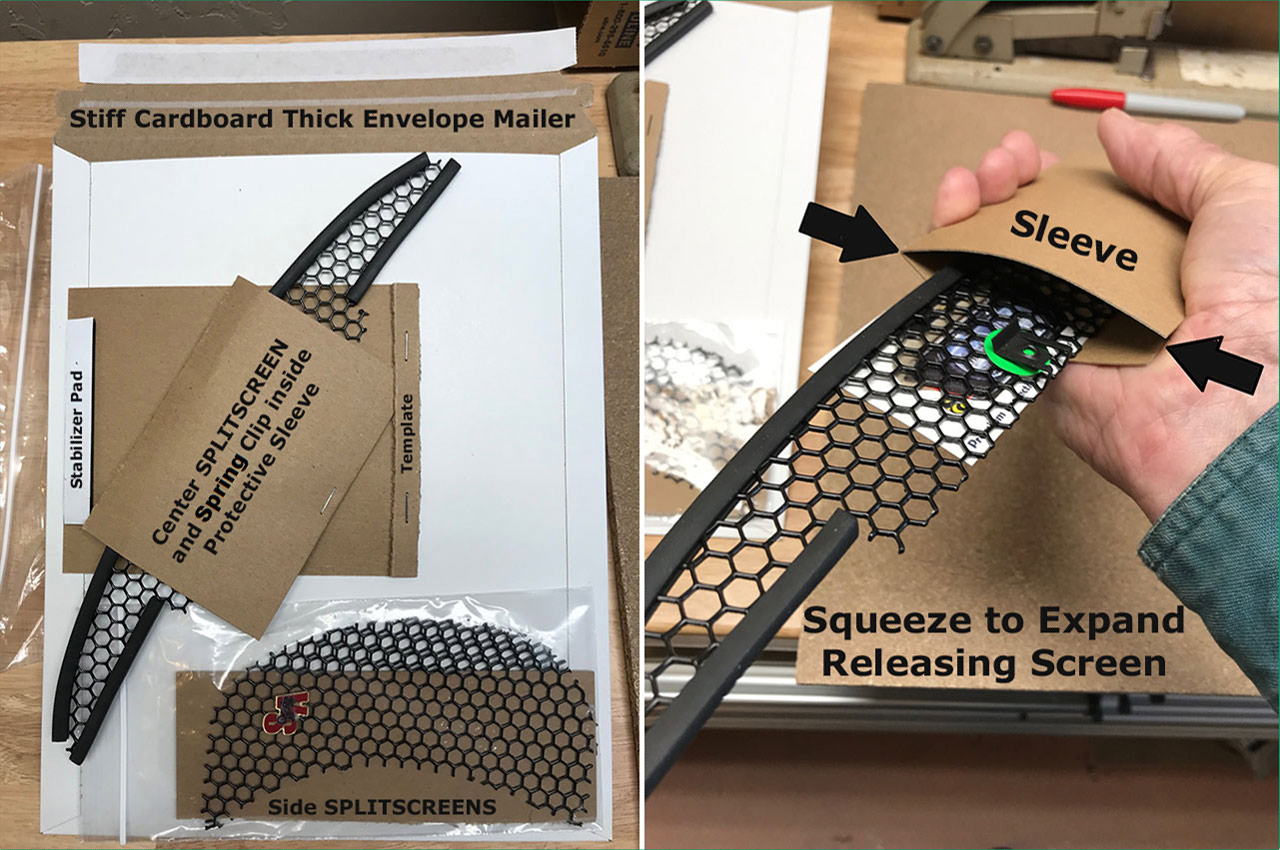 This is what to expect upon opening your Triple SPLITSCREENS shipping package

---
STEP #3

– prepare your workspace and let's get this installation done!
---
Shark

CUSTOMERS

: have your password

*

handy' then

CLICK HERE

when ready to proceed with the installation. *

P

assword provided inside your package; also provided with your order acknowledgement email.
(NOTE: eBay customers wanting to review Center SPLITSCREEN installation instructions prior to receiving their package,
please contact us directly)
---
Batwing

CUSTOMERS

: please

CLICK HERE

when ready to proceed with the installation
(no password required for your almost embarrassingly easy installation)
---
DISCLAIMER: Thanks for your purchase! In a perfect world where money was no object, you'd have your Harley-Davidson® Tech be responsible for the installation. In the real world however, many of us elect to perform the installation ourselves. Thus Elegant Solutions Inc. dba Motorcycle Vent Screens is obliged to disclaim any responsibility for any damage or injuries incurred as a result of your purchase and/or installation efforts. Always protect yourself with the proper safety equipment and protect your motorcycle with appropriate padding such as a folded towel covering the front fender, etc. Congratulations on your wise purchase and have a fun installation!
---
ROAD GLIDE Vent Screens Installation
Motorcycle

V

ent

S

creens
Discreet and Classy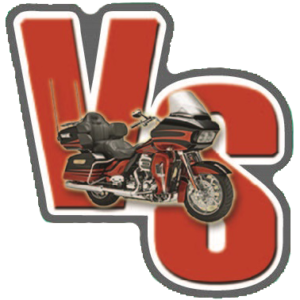 "m

VS

Badge"
Symbolizes You Chose the Very Best
---
Note: Our SPLITSCREENS began shipping with the new "mVS Badge" 11/21/2017. We've since made this classy clear epoxy protected mVS Badge optional as it's glued in place and some of our customers prefer the "no distractions" look! If you're willing to display our Symbol of Quality, it's yours at no additional charge (our cost for this beautiful badge is $2)
---
ROAD GLIDE Vent Screens Installation
Complete Customer

Satisfaction Matters!
Our Support Pages are intended to assist those who've purchased our products and who therefore deserve guidance with the installation. At the very fair pricing our volume production allows, many DIY'ers may well discover they'd be better served taking advantage of our hard-earned expertise. The irregular shape of the Rushmore ROAD GLIDE Air Duct Assembly proved to be quite challenging for the secure installation of a center vent screen, particularly one which didn't interfere with the center vent flap closure! We're dealing with a "funnel shaped" passageway which offers few (if any) obvious points for firm attachment of the screen and it took a considerable amount of research and "trial and error" to produce a secure solution! Perhaps this explains why there are few (if any) reliable solutions commercially available!
Why the PASSWORD? The unique attachment method we've developed which secures our Center SPLITSCREEN (both top and bottom) is proprietary and therefore, in fairness, offered only to those already "riding with us". Accordingly, each Buyer receives a post-purchase email providing a PASSWORD for access to our Center SPLITSCREEN (LOGIN) page where the attachment method is fully documented. Along with the option to contact us directly, this valuable information provides our ♥CUSTOMERS♥ the support to which they're entitled!
---
A message from the President of Elegant Solutions Inc. dba Motorcycle Vent Screens: My very first "Touring Bike" was a Batwing FLHTK Ultra Limited and I loved riding it. However the Harley-Davidson® Road Glide® became my favorite touring motorcycle the first time I rode one! The "Shark Nose" frame-mounted fairing offers both high speed stability cutting through the air at touring speeds as well as low speed maneuverability with the handlebars "free" of the weight of the fairing. My BSR (back seat rider) wife is extraordinarily comfortable riding with me and considers this bike to be a "limo on 2 wheels"! Elegant Solutions Inc. dba Motorcycle Vent Screens is not affiliated with Harley-Davidson®. Terms such as: Harley-Davidson®, Road Glide® and Harley® are trademarks of the Harley-Davidson® Motor Company. They are only used here for descriptive, informational purposes and displayed either with the ® designation or in CAP's (an alternate method of displaying the "®" designation). The 3-screen complete solution described herein is termed "Triple SPLITSCREENS". "SPLITSCREEN(S)" and "Triple SPLITSCREENS" are terms coined by Elegant Solutions Inc.