Bucket List Motorcycle Road Trip
BIKERS ROAD TRIP OF A LIFETIME!
Urban Dictionary®: "BUCKET LIST" ……a LIST of things to do before you die…….originating from the term "KICK THE BUCKET"
This was our motorcycle "Road Trip of a Lifetime" round-trip from our home in Princeville, Kauai, Hawaii where we lived from 2002 to 2015. Our BUCKET LIST MOTORCYCLE ROAD TRIP stretched across the US mainland all the way to Europe and back on our very own 2011 Harley-Davidson Road Glide "Trigger" (named after Roy Rogers Palomino horse)! 15k road miles in 10.5 weeks! 26k total miles (for perspective, more than the circumference of the Earth at the equator)!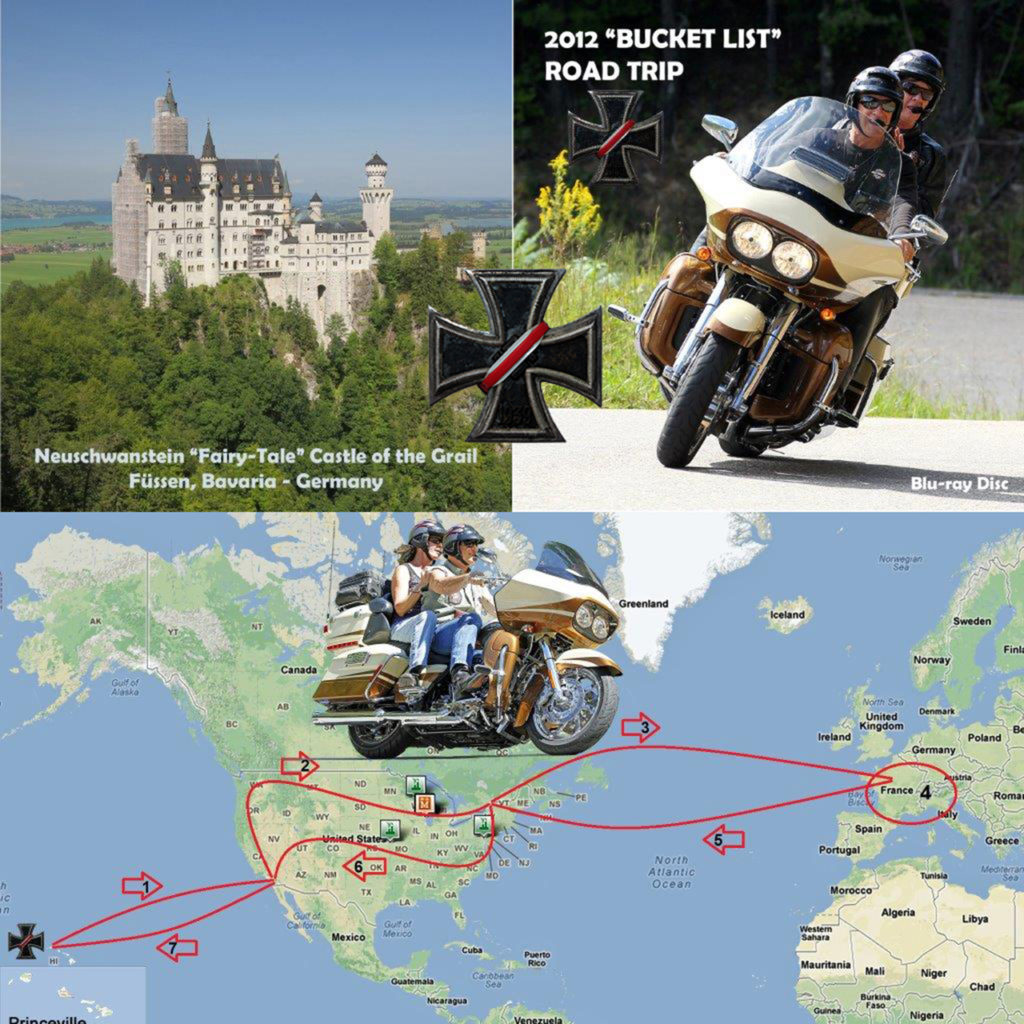 Shipped our Road Glide® Kauai to San Diego, flew to meet it and began our odyssey;
5,000 mile cross-country ride to Toronto, enjoying Sturgis "Bike Week" along the way;
Flew with

our Road Glide®

Toronto to Paris via "air transat";
5,000 mile ride, 4 weeks touring Central Europe (see route below);
Flew with

our Road Glide®

Paris to Toronto via "air transat";
5,000 mile cross-country ride to San Diego;
Shipped our Road Glide® to Lihue, Kauai, flew home.
---
The 4 week, 5,000 mile European segment of our Bucket List motorcycle adventure was particularly thrilling:

Upon our return home to Kauai, the local newspaper featured our story in the "Lifestyle" article pictured below (CLICK on a page to expand; CLICK anywhere off the page to return):
TRUE STORY PRESENTED TO INSPIRE OTHERS TO "JUST DO IT"!!!
From The Garden Island newspaper article:
"PRINCEVILLE — A good bucket list is all about achieving goals, facing fears, trying something new. Some people go skydiving. Others swim with dolphins or write a book."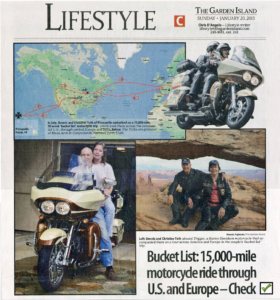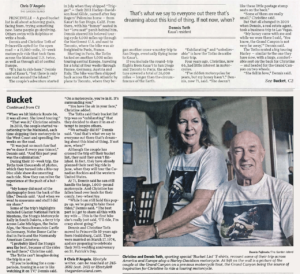 ---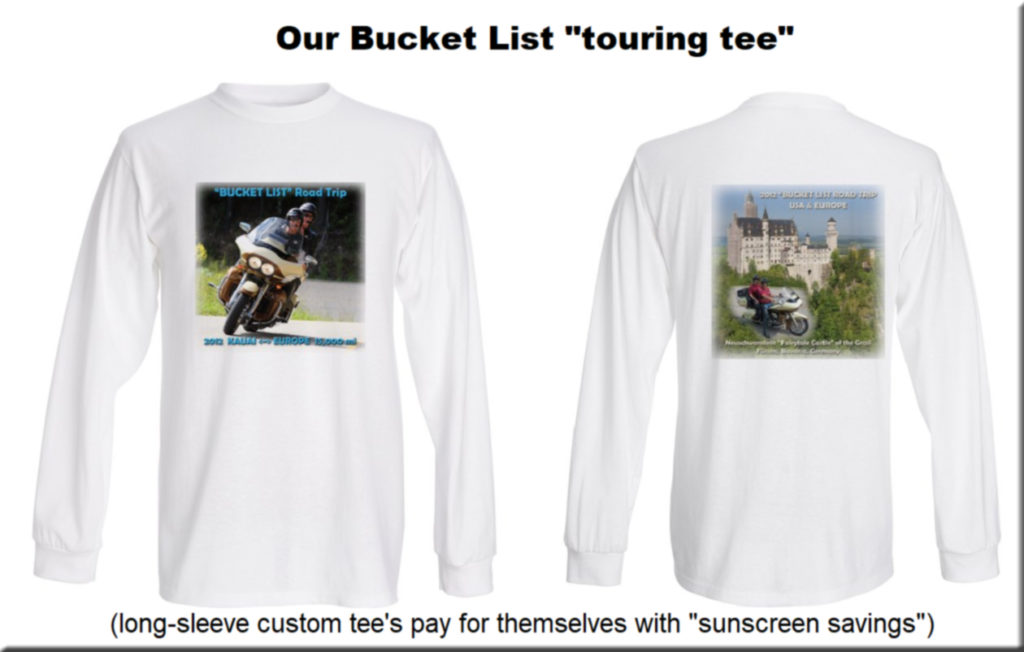 ---
If curious as to what we're doing now ……..click "

ABOUT

"
---
A message from the President of Elegant Solutions Inc. dba Motorcycle Vent Screens: My very first "Touring Bike" was a Batwing FLHTK Ultra Limited and I loved riding it. However the Harley-Davidson® Road Glide® became my favorite touring motorcycle the first time I rode one! The "Shark Nose" frame-mounted fairing offers both high speed stability cutting through the air at touring speeds as well as low speed maneuverability with the handlebars "free" of the weight of the fairing. My BSR (back seat rider) wife is extraordinarily comfortable riding with me and considers this bike to be a "limo on 2 wheels"! Elegant Solutions Inc. dba Motorcycle Vent Screens is not affiliated with Harley-Davidson®. Terms such as: Harley-Davidson®, Road Glide® and Harley® are trademarks of the Harley-Davidson® Motor Company. They are only used here for descriptive, informational purposes and displayed either with the ® designation or in CAP's (an alternate method of displaying the "®" designation). The 3-screen complete solution described herein is termed "Triple SPLITSCREENS". "SPLITSCREEN(S)" and "Triple SPLITSCREENS" are terms coined by Elegant Solutions Inc.