Road Glide Air Duct Assembly Issues
A Compromised Road Glide Air Duct Assembly can cause your Center SPLITSCREEN to "go missing"
The Road Glide Air Duct Assembly (ADA) houses the Road Glide center vent. It is located immediately under the windshield and contains a closable vent flap. In combination with a windshield sized for the rider, when the flap is open, the airflow through this vent is responsible for eliminating most air turbulence and providing the rider(s) a comfortable cockpit free of annoying buffeting. The ADA itself is a 2-panel "clamshell" assembly held together by 6 pairs of Velcro pads each of which attach to the upper and lower panels via self-adhesive. Motorcycle Vent Screens relies on the integrity of the ADA 2-panel assembly for the installation of our Center SPLITSCREEN to remain secure.
The Center SPLITSCREEN installs between the 2 panels of the ADA using a mild pressure-fit and two attachment points (Mini-Binder Clip plus Stabilizer Pad). The integrity of the Velcro pad's self-adhesive has been known to weaken and fail under prolonged heat conditions. This can cause the upper and lower panels to separate by varying degrees, sometimes barely noticeably and sometimes with complete separation occurring (while lifting the upper panel edge to remove the ADA from the fairing). Any significant separation of the ADA's two panels can compromise the security of our Center SPLITSCREEN and cause failure of the otherwise secure attachment methods.
To verify the integrity of the ADA's adhesive qualities, remove windshield, lift ADA to remove from fairing and check that the 7 male-female alignment points are fully seated (i.e., that each "+" shaped male tip is flush (even) with each "O" shaped female opening). If not perfectly flush, ADA panel separation has occurred due to failure of the Velcro pad's adhesive. The H-D repair solution would be to completely disassemble the ADA and replace the 6 pairs of Velcro pads. When this scenario occurred on our 2015 Road Glide CVO several years ago, we chose a far simpler solution which converted the male-female alignment points into attachment points. This was accomplished by inserting #8 x 3/4″ Bugle Head Drywall screws (or small #6 or #8 fully threaded wood screws) into the ends of the fully seated male-female alignment points as per the following photos: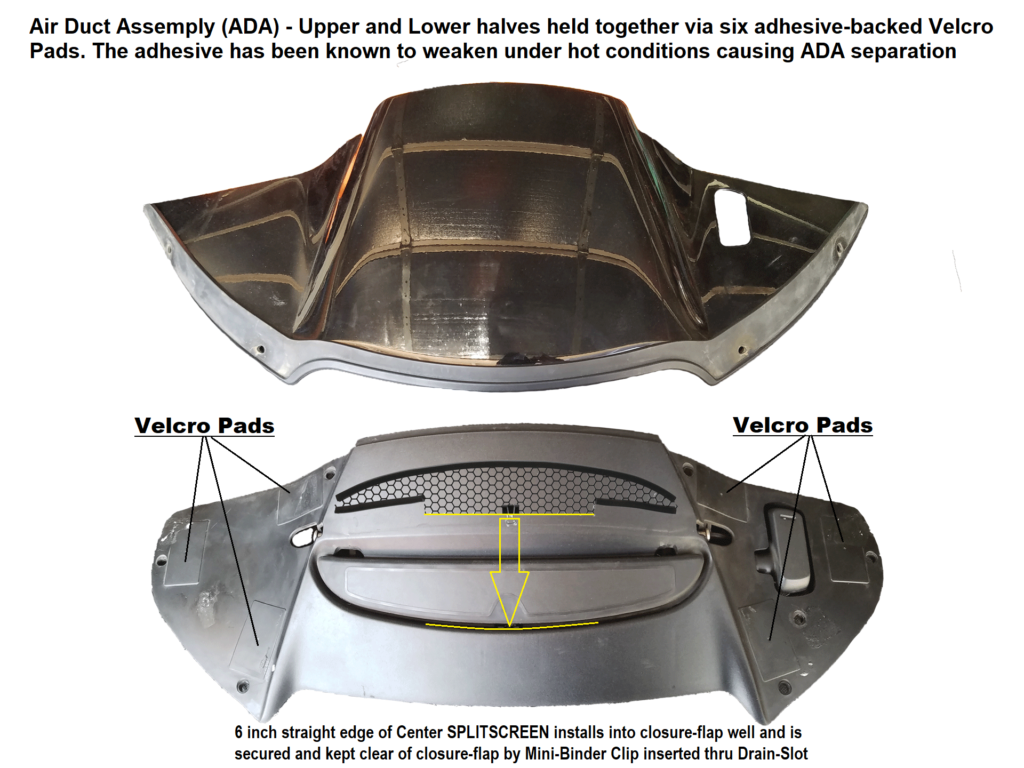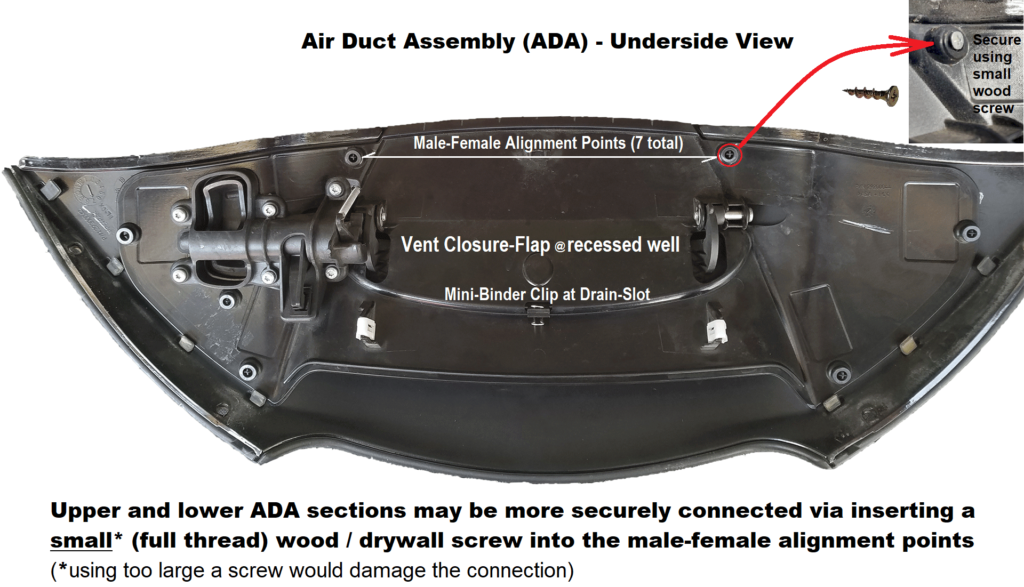 Elegant Solutions Inc. dba Motorcycle Vent Screens is not affiliated with Harley-Davidson®. Terms such as: Harley-Davidson®, Road Glide®, Batwing, Low Rider ST®, FXLRST® and Harley® are trademarks of the Harley-Davidson® Motor Company. They are only used here for descriptive, informational purposes and displayed either with the ® designation or in CAP's (an alternate method of displaying the "®" designation). The 3-screen complete solution described herein is termed "Low Rider ST Vent Screens/SPLITSCREENS" and/or FXLRST Vent Screens/SPLITSCREENS. These are terms coined by Elegant Solutions Inc.