Road Glide Vent Screens
A Set of Three Stylish and Functional Road Glide Fairing Vent Screens which Look Great! And Protect your Face, Neck and Upper Torso from Road Debris & Potentially Angry "Stingsects*"
*Stingsects: Insects you'll encounter while riding a motorcycle which can sting and/or bite include Bee's, Wasps, Yellow-Jackets and Hornets.
ROAD GLIDE Vent Screens or Road Glide Vent Inserts – ROAD GLIDE Triple SPLITSCREENS for ROAD GLIDE Fairing Screens aka HARLEY Motorcycle Fairing Screens


The ROAD GLIDE ventilated fairing is a most excellent solution for helmet buffeting. However, those OPEN VENTS expose you to the same Road Debris & Insects splattered on the windshield and front-end of your cage! SOLUTION: Upgrade your fairing with ⭐⭐⭐⭐⭐ Star-Rated Triple SPLITSCREENS for protection and a CUSTOM LOOK!
Which Powder Coat Finish –

Subtle Black

or

BOLD SILVER

– would look best on your Bike?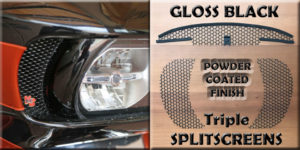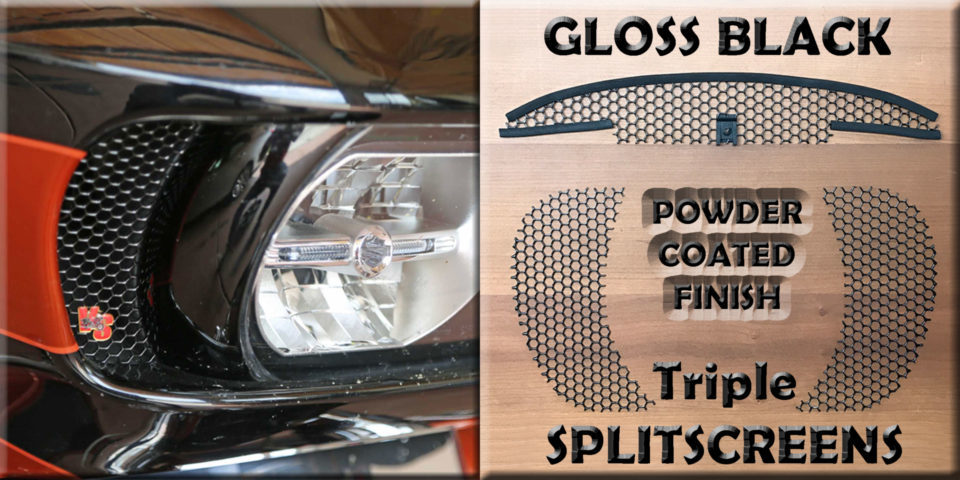 👀 click>> Visual Comparison Gallery <<click 👀
CUSTOM LOOK! The Side SPLITSCREENS prominent "fairing frontal" position displays either a Striking BOLD look [SILVER], or blending into the dark vent openings, an elegantly subtle look [BLACK]! The unique Center SPLITSCREEN is strategically visible only to the Rider, installing midway within the top vent duct providing you discreet protection!

For Triple SPLITSCREENS Details and Pricing, Click the appropriate

BLACK

or SILVER Powdercoat Finish (above).
---
ROAD GLIDE (FLT) FITMENT



Made in USA Premium Quality Product
---
About MotorcycleVentScreens.com (1:59)
Motorcycle Vent Screens is the premier manufacturer of high-quality vent screens for 2014 and newer Harley-Davidson® Touring motorcycles equipped with ventilated fairings. Buyer REVIEWS show overwhelming approval of our SPLITSCREENS (97% 5-Star)! Our 77% open airflow design provides a pleasant "wind in your face" ride without the unpleasant "bugs in your teeth" experience!
---
2014 and newer BATWING (FLH) Ventilated Fairing

Rushmore Batwing owners, we offer an attractive and protective SPLITSCREEN product as part of our lineup for the SPLITSTREAM vent in the 2014 and newer Harleys® with the FLH Batwing style fairings (Street Glide®, CVO Street Glide®, Electra Glide®, Ultra Limited®, CVO Limited® and Tri Glide Ultra®). It is offered in two powder-coated finishes: Gloss Black and Gloss Silver (see SPEC'S Page for details). This exceptionally attractive and strong screen will keep Road Debris and Large Insects (particularly the stinging variety) from passing through the unscreened factory vent opening and "visiting" the motorcyclist. Installation is embarrassingly easy for Batwing owners. CLICK Batwing SPLITSCREEN for more details.
---
HARLEY Motorcycle ROAD GLIDE Vent Screens – ROAD GLIDE Triple SPLITSCREENS – Batwing SPLITSCREEN
ROAD GLIDE Vent Screens or Vent Inserts – ROAD GLIDE Triple SPLITSCREENS – Batwing SPLITSCREEN

BUYERS NOTE: SPLITSCREENS are manufactured in Colorado USA using only premium "Made in USA" materials. These heavy-duty powder-coated aluminum ROAD GLIDE fairing screens are absolutely the best impact protection vent screens you can buy for your Harley-Davidson® touring motorcycle! Check our SPEC'S page for proof; and when you're satisfied we offer the best value; order your SPLITSCREENS from our STORE page!
---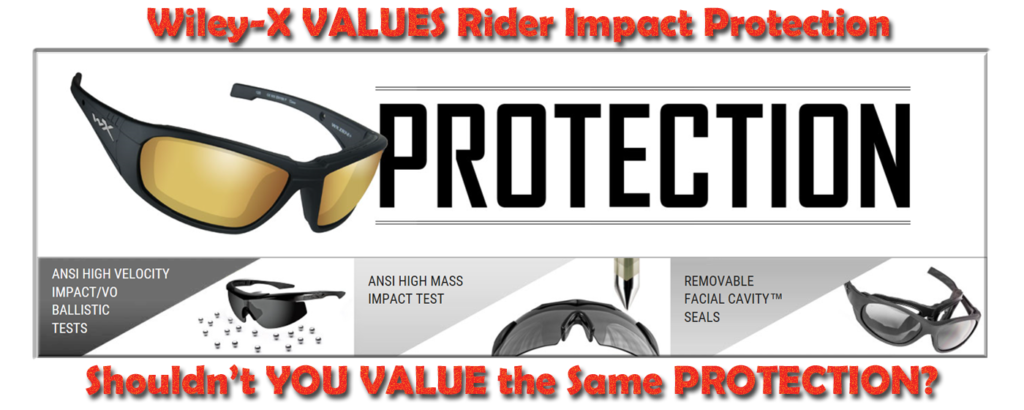 HARLEY Motorcycle ROAD GLIDE Vent Screens –

ROAD GLIDE Triple SPLITSCREENS – Batwing SPLITSCREEN
---
A message from the President of Elegant Solutions Inc. dba Motorcycle Vent Screens: My very first "Touring Bike" was a Batwing FLHTK Ultra Limited and I loved riding it. However the Harley-Davidson® Road Glide® became my favorite touring motorcycle the first time I rode one! The "Shark Nose" frame-mounted fairing offers both high speed stability cutting through the air at touring speeds as well as low speed maneuverability with the handlebars "free" of the weight of the fairing. My BSR (back seat rider) wife is extraordinarily comfortable riding with me and considers this bike to be a "limo on 2 wheels"! Elegant Solutions Inc. dba Motorcycle Vent Screens is not affiliated with Harley-Davidson®. Terms such as: Harley-Davidson®, Road Glide® and Harley® are trademarks of the Harley-Davidson® Motor Company. They are only used here for descriptive, informational purposes and displayed either with the ® designation or in CAP's (an alternate method of displaying the "®" designation). The 3-screen complete solution described herein is termed "Triple SPLITSCREENS". "SPLITSCREEN(S)" and "Triple SPLITSCREENS" are terms coined by Elegant Solutions Inc.