ROAD GLIDE Triple SPLITSCREENS
ROAD GLIDE Triple SPLITSCREENS For Sale – Road Glide Fairing Screens Protect the Motorcyclist
Why ROAD GLIDE Triple SPLITSCREENS? In 2015, Harley-Davidson® introduced their "NEW TRIPLE SPLITSTREAM FAIRING" designed with three air vents for a more comfortable ride. The innovative vents worked well to reduce/eliminate buffeting, however those three unprotected fairing openings also "vented" road debris and BUGS directly at the Rider. Vent screens were needed. The two side vents presented an easy screen attachment solution, so it wasn't long before lightweight aluminum (easy to cut to shape) screens were offered. But only for the 2 side vents, which left the important top vent unprotected. That glaring omission was because the smooth funnel-shaped top air duct presented a most difficult challenge to mount a screen securely. Thus, there were few, if any, commercially available "real-world" center/top vent screen solutions. Until June 2017 when Motorcycle Vent Screens (mVS) succeeded in designing the innovative, high-quality Center SPLITSCREEN! Subsequently, mVS set about offering a complete Road Glide Fairing screen set of a quality commensurate with Harley-Davidson's top-of-the-line touring motorcycle. This beefy 14-gauge powder coated, rubber-trimmed package became our highly regarded (5-Star Rated) Triple SPLITSCREENS.
Cockpit Comfort and Protection…
…

a "Lovely Combination" for ROAD GLIDE owners
Triple SPLITSCREENS, the ONLY Commercially Available 3-Screen Solution for the Road Glide® offering you ALL of these advantages:
Reliable CENTER SCREEN Installation

: Our proprietary attachment

design keeps our Center SPLITSCREEN securely in place midway within the Air Duct Assembly (ADA). This unique attachment method is secure

even at triple digit highway speeds and …. allows normal operation of the vent closure flap. Unreliable friction fit methods (causing displacement of ADA panels) to secure the screen are avoided. And our neoprene rubber trim keeps potentially sharp screen edges from damaging your bike's finish as per:
IDEAL AIRFLOW for COMFORT: Our 1/4″ 14-gauge honeycomb screens allow an ideal ~77% "managed" airflow yet protect from road debris and insects large enough to matter. Other 25-gauge screen designs (see eBay) don't have enough thickness for strength and some attempt to make up the strength deficiency by using screens with fewer openings… i.

e., small circular perforations with a meager 48% airflow. The "Lincane" pattern (pictured below) offered by an eBay vendor provides even less airflow! Reducing the airflow that much shrinks the cockpit air bubble and increases uncomfortable

buff

eting.

STRENGTH for PROTECTION

: Our 14-gauge screens are about twice the thickness of 25-gauge offerings commonly found on eBay! The current best known firm selling vent screens for the Road Glide® offers only a pair of RAW or black anodized aluminum SIDE VENT screens. They are almost the same price as our complete set but not powder-coated and only half the thickness of our Triple SPLITSCREENS. Judge our screen's strength versus the competition's for yourself. View our SPECIFICATIONS page for a "HAMMER TEST" video demonstration.
---
ROAD GLIDE Triple SPLITSCREENS For Sale
– Premium Protection for both Rider and BSR –
GLOSS BLACK Powder Coated – Easy Maintenance – Subtle Appearance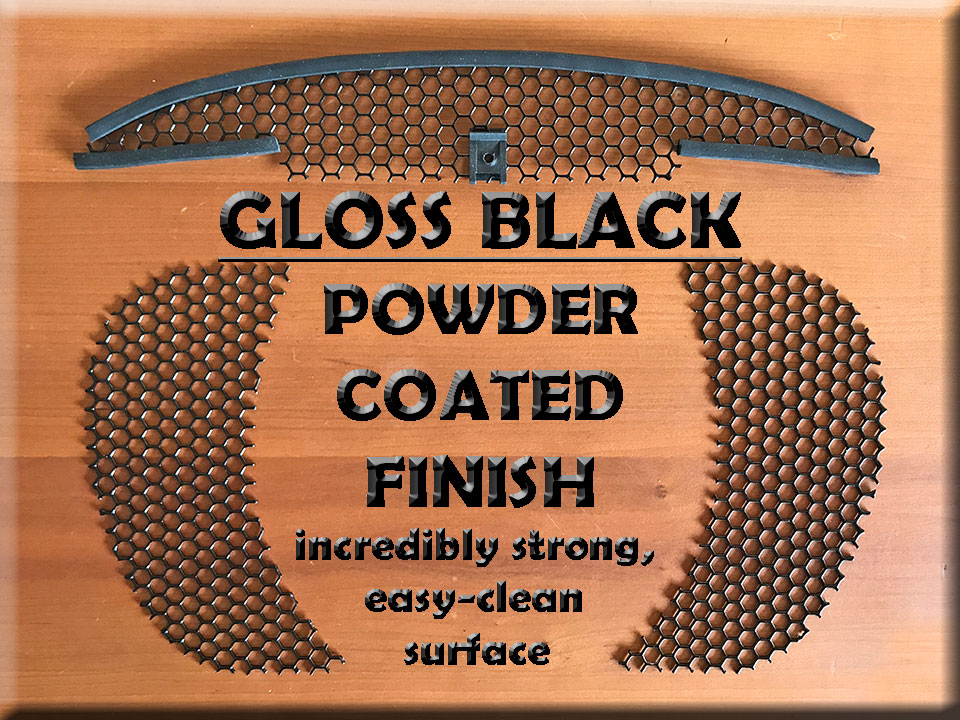 ---
GLOSS SILVER, Clear Powder-Coated – Easy Maintenance – Contrasting Look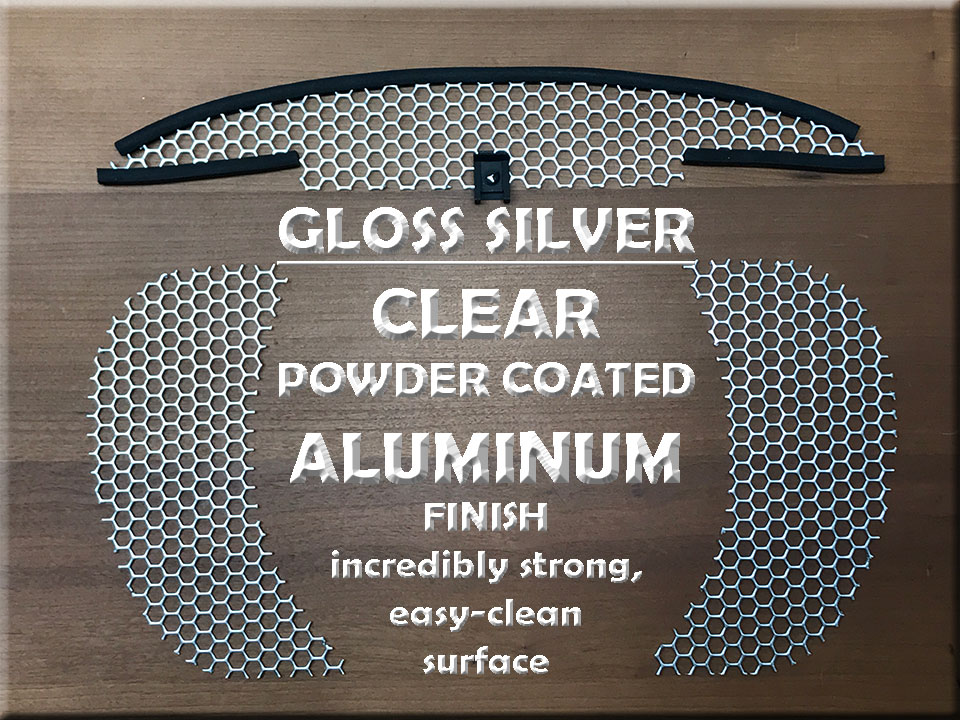 GLOSS SILVER ALUMINUM FINISH IS EXCLUSIVELY AVAILABLE from ELEGANT SOLUTIONS WITH EASY MAINTENANCE CLEAR POWDER COATING
---
VS Badge: your Symbol of Quality*! The only Road Glide® Vent Screen manufacturer proud enough to "put our name on them"! (*optional at purchase)
* Badge may be selected as a no-cost option at checkout. Discreetly sized 3/4″ mVS Badge is glued in place onto the right Side SPLITSCREEN. This beautiful symbol of quality shows you've chosen the very best vent screens for your Road Glide!
Note: The default purchase option is "standard w/o Badge". We've made this classy clear epoxy protected mVS Badge optional as it's glued in place and some of our customers prefer the simple "no distractions" look! If you're willing to display our Symbol of Quality, it's yours at no additional charge (our cost for this beautiful badge is $4)
---
ROAD GLIDE Triple SPLITSCREENS For Sale – Road Glide Fairing Screens
~ UNIQUE CENTER VENT SCREEN DESIGN ~
Join our VALUED CUSTOMER Base …… ORDER your SPLITSCREENS TODAY!!
ROAD GLIDE Triple SPLITSCREENS For Sale
---
A message from the President of Elegant Solutions Inc. dba Motorcycle Vent Screens: My very first "Touring Bike" was a Batwing FLHTK Ultra Limited and I loved riding it. However the Harley-Davidson® Road Glide® became my favorite touring motorcycle the first time I rode one! The "Shark Nose" frame-mounted fairing offers both high speed stability cutting through the air at touring speeds as well as low speed maneuverability with the handlebars "free" of the weight of the fairing. My BSR (back seat rider) wife is extraordinarily comfortable riding with me and considers this bike to be a "limo on 2 wheels"! Elegant Solutions Inc. dba Motorcycle Vent Screens is not affiliated with Harley-Davidson®. Terms such as: Harley-Davidson®, Road Glide® and Harley® are trademarks of the Harley-Davidson® Motor Company. They are only used here for descriptive, informational purposes and displayed either with the ® designation or in CAP's (an alternate method of displaying the "®" designation). The 3-screen complete solution described herein is termed "Triple SPLITSCREENS". "SPLITSCREEN(S)" and "Triple SPLITSCREENS" are terms coined by Elegant Solutions Inc.