ROAD GLIDE Triple SPLITSCREENS For Sale – Road Glide Fairing Screens Protect the Motorcyclist
Cockpit Comfort and Protection
a "Lovely Combination" for ROAD GLIDE owners 
Triple SPLITSCREENS, the ONLY Commercially Available

3-Screen Solution

for the Road Glide® offering you ALL of these advantages:
Reliable CENTER SCREEN Installation

: Our unique and proprietary attachment  design keeps our Center SPLITSCREEN securely in place, even at triple digit highway speeds and allows normal operation of the vent closure flap. No unreliable friction fit or displacement of fairing panels are used to secure the screen. And our neoprene rubber trim keeps potentially sharp screen edges from damaging your bike's finish;
IDEAL AIRFLOW for COMFORT: To both "protect and serve" sounds right for a police department, but in the engineering world signals a compromise design. The "perfect" screen would catch the bad stuff and allow 100% airflow… i.e. a "force field", impossible with current technology. Our 1/4″ honeycomb screens allow an ideal ~77% "managed" airflow, yet protect from road debris and

insects large enough to matter

. Other 25 gauge screen designs (see eBay) don't have enough thickness for strength and some attempt to make up the strength deficiency by using screens with fewer openings… i.e. small circular perforations with a meager 48% airflow. The "Lincane" pattern (pictured below) offered by an eBay vendor provides even less airflow! Reducing the airflow that much shrinks the cockpit air bubble and increases uncomfortable buffeting;

STRENGTH for PROTECTION

: Our 14 gauge screens are about twice the thickness of 25 gauge offerings commonly found on eBay! The current best known firm selling vent screens for the Road Glide® offers only a pair of RAW or black anodized aluminum SIDE VENT screens. They are almost the same price as our complete set but not powder-coated and only half the thickness of our Triple SPLITSCREENS. Judge our screen's strength versus the competition's for yourself, check our

SPECIFICATIONS

page for a "HAMMER TEST" video demonstration.
---
ROAD GLIDE Triple SPLITSCREENS For Sale
– Premium Protection for both Rider and BSR –
GLOSS BLACK Powder Coated – Easy Maintenance – Subtle Appearance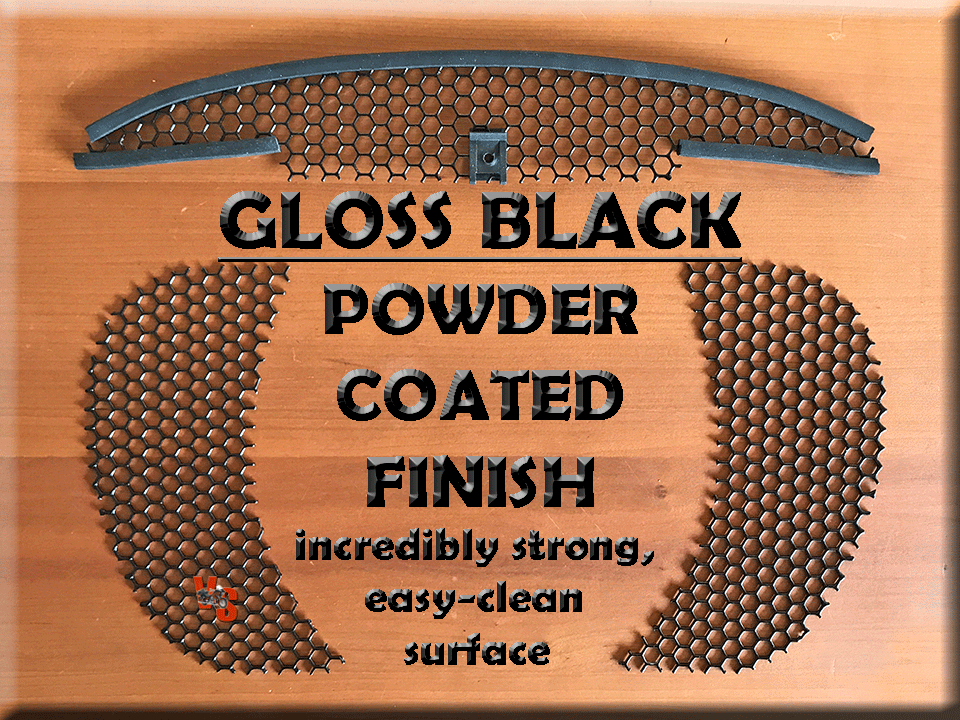 ---
GLOSS SILVER, Clear Powder-Coated – Easy Maintenance – Contrasting Look
GLOSS SILVER ALUMINUM FINISH NOW EXCLUSIVELY AVAILABLE from ELEGANT SOLUTIONS WITH EASY MAINTENANCE CLEAR POWDER COATING
---
VS Badge: your (optional) Symbol of Quality*! The only Road Glide® Vent Screen manufacturer proud enough to "put our name on them"!
* Discreetly sized (only 3/4″) Badge optional at checkout. This beautiful symbol of quality shows you've chosen the very best for your Road Glide. And we trust you'll mention us if asked!
---
ROAD GLIDE Triple SPLITSCREENS For Sale – Road Glide Fairing Screens
~ UNIQUE CENTER VENT SCREEN DESIGN ~
Join our VALUED

♥

CUSTOMER

♥

Base …… ORDER your SPLITSCREENS TODAY!!
ROAD GLIDE Triple SPLITSCREENS For Sale
---
A message from the President of Elegant Solutions Inc. dba Motorcycle Vent Screens: The Harley-Davidson® Road Glide® became my favorite touring motorcycle the first time I rode one! The "Shark Nose" frame mounted fairing offers both high speed stability cutting through the air at touring speeds as well as low speed maneuverability with the handlebars "free" of the weight of the fairing. My BSR (back seat rider) wife is extraordinarily comfortable riding with me and considers this bike to be a "limo on 2 wheels"! Elegant Solutions Inc. is not affiliated with Harley-Davidson®. The terms: Harley-Davidson®, Road Glide® and Harley® are trademarks of the Harley-Davidson® Motor Company. The 3-screen complete solution described herein is termed "Triple SPLITSCREEN(S)". "SPLITSCREEN(S)" and "Triple SPLITSCREEN(S)" are terms coined by Elegant Solutions Inc.