FLH Fairing Vent Screen-Batwing Fairing Vent Screen-Batwing Vent Screen for HARLEY-DAVIDSON STREET GLIDE, ELECTRA GLIDE, ULTRA LIMITED, TRI GLIDE motorcycles
Batwing SPLITSCREEN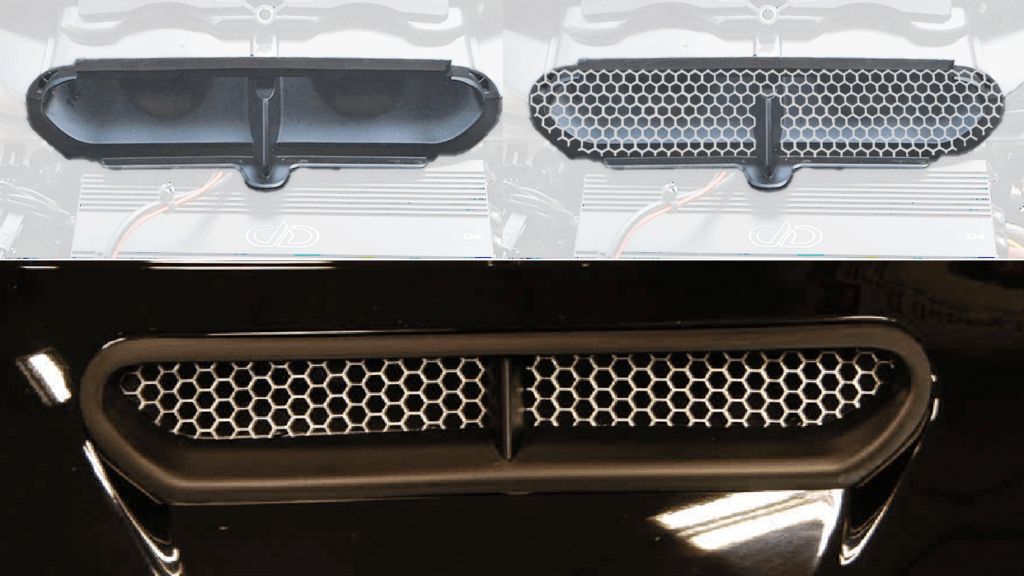 Batwing Fairing Vent Screen-Batwing Vent Screen for HARLEY-DAVIDSON STREET GLIDE, ELECTRA GLIDE, ULTRA LIMITED, TRI GLIDE motorcycles

Rushmore Batwing owners, we have added a new SPLITSCREEN product to our lineup for the Splitstream vent in the 2014 and newer Harleys® with the FLH Batwing style fairings (Street Glide®, CVO Street Glide®, Electra Glide®, Ultra Limited®, CVO Limited® and Tri Glide Ultra®). It is offered in two powder-coated finishes: Gloss Black and Gloss Silver (see SPEC'S Page for details). This exceptionally attractive and strong screen will keep Road Debris and Large Insects (particularly the stinging variety) from passing through the unscreened factory vent opening and striking the motorcyclist. Those using vent lighting products such as "Spectra Glo" may appreciate how the SPLITSCREEN accentuates the LED lighting behind it.
STRENGTH: Double thickness Strong 0.065″ (1.65mm) 14 gauge* material (*note: 14 gauge is much thicker/stronger than another vendors' 25 gauge material). Superior performance handling road debris impacts compared to the 0.03125″ (0.79mm) thin light-weight material used by another Batwing vent screen supplier.
FUNCTIONALITY: We've chosen the 1/4″ hexagonal screen mesh design with ~77% Open Area as it provides the best balance of airflow for rider comfort ……and rider protection stopping most road debris and larger insects like wasps & bee's (the kind that sting);
POWDER-COATED: Gloss Black or Gloss Silver* (*clear power-coat over polished aluminum) provides a classy look and easy cleanup.
---
---
A message from the President of Elegant Solutions Inc. dba Motorcycle Vent Screens: My very first "Touring Bike" was a Batwing FLHTK Ultra Limited and I loved riding it. However, the Harley-Davidson® Road Glide® became my favorite touring motorcycle the first time I rode one! The "Shark Nose" frame mounted fairing offers both high speed stability cutting through the air at touring speeds as well as low speed maneuverability with the handlebars "free" of the weight of the fairing. My BSR (back seat rider) wife is extraordinarily comfortable riding with me and considers this bike to be a "limo on 2 wheels"! Elegant Solutions Inc. is not affiliated with Harley-Davidson®. The terms: Harley-Davidson®, Road Glide® and Harley® are trademarks of the Harley-Davidson® Motor Company. The 3-screen complete solution described herein is termed "Triple SPLITSCREEN(S)". "SPLITSCREEN(S)" and "Triple SPLITSCREEN(S)" are terms coined by Elegant Solutions Inc.