Contact Elegant Solutions Inc.
QUESTIONS?
NOTE: For answers to frequently asked questions, click on FAQ; for installation assistance, click on SUPPORT.
---
CONTACT ELEGANT SOLUTIONS
Be assured any contact information you provide will remain CONFIDENTIAL!
---
You may also contact Elegant Solutions at the cellular phone number* or email displayed in the image below: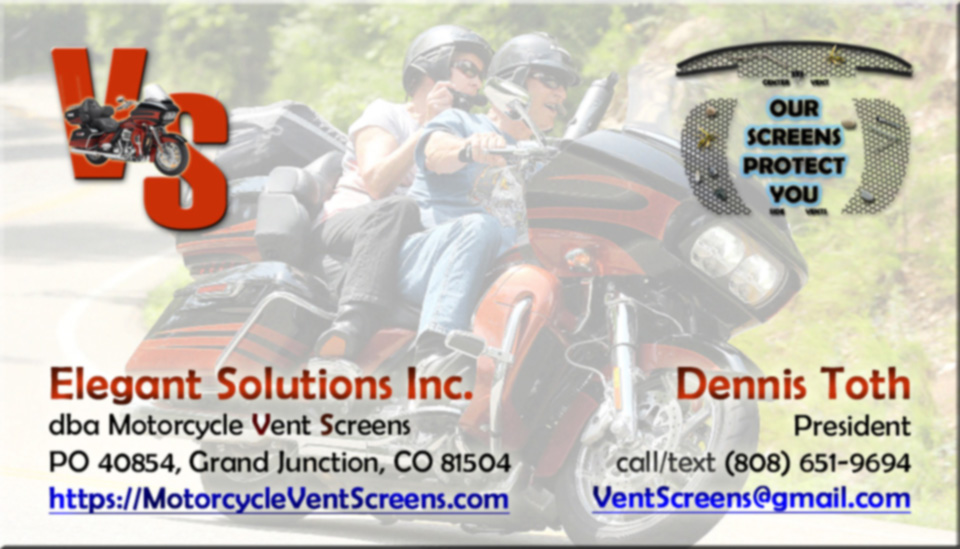 * International callers please contact us via email or text messaging (our Triple SPLITSCREENS pricing is affordable in part by not utilizing expensive international cellular calling plans).
---
A message from the President of Elegant Solutions Inc. dba Motorcycle Vent Screens: The Harley-Davidson® Road Glide® became my favorite touring motorcycle the first time I rode one! The "Shark Nose" frame mounted fairing offers both high speed stability cutting through the air at touring speeds as well as low speed maneuverability with the handlebars "free" of the weight of the fairing. My BSR (back seat rider) wife is extraordinarily comfortable riding with me and considers this bike to be a "limo on 2 wheels"! Elegant Solutions Inc. is not affiliated with Harley-Davidson®. The terms: Harley-Davidson®, Road Glide® and Harley® are trademarks of the Harley-Davidson® Motor Company. The 3-screen complete solution described herein is termed "Triple SPLITSCREEN(S)". "SPLITSCREEN(S)" and "Triple SPLITSCREEN(S)" are terms coined by Elegant Solutions Inc.