ROAD GLIDE Top Vent Screen – Center SPLITSCREEN
The ROAD GLIDE Top Vent Screen described in detail: The Center SPLITSCREEN is the centerpiece of our Triple SPLITSCREENS Rider protection package
Road Glide® owners appreciate

Complete Protection

– including for our sensitive Face & Neck areas!
The Road Glide® Top Vent Screen, or Center SPLITSCREEN, is critically important as it is positioned discreetly* to protect the Riders FACE & NECK from road debris and (potentially angry) insect impacts! * Installed midway within the top vent duct, the Center SPLITSCREEN provides inconspicuous protection (positioned where visible mostly to the Rider)
The ROAD GLIDE Top Vent Screen –

Center SPLITSCREEN
---
Center SPLITSCREEN installs

inconspicuously midway within the top vent duct and Protects your Neck & Face from ROAD DEBRIS and these Large

Potentially ANGRY

INSECTS: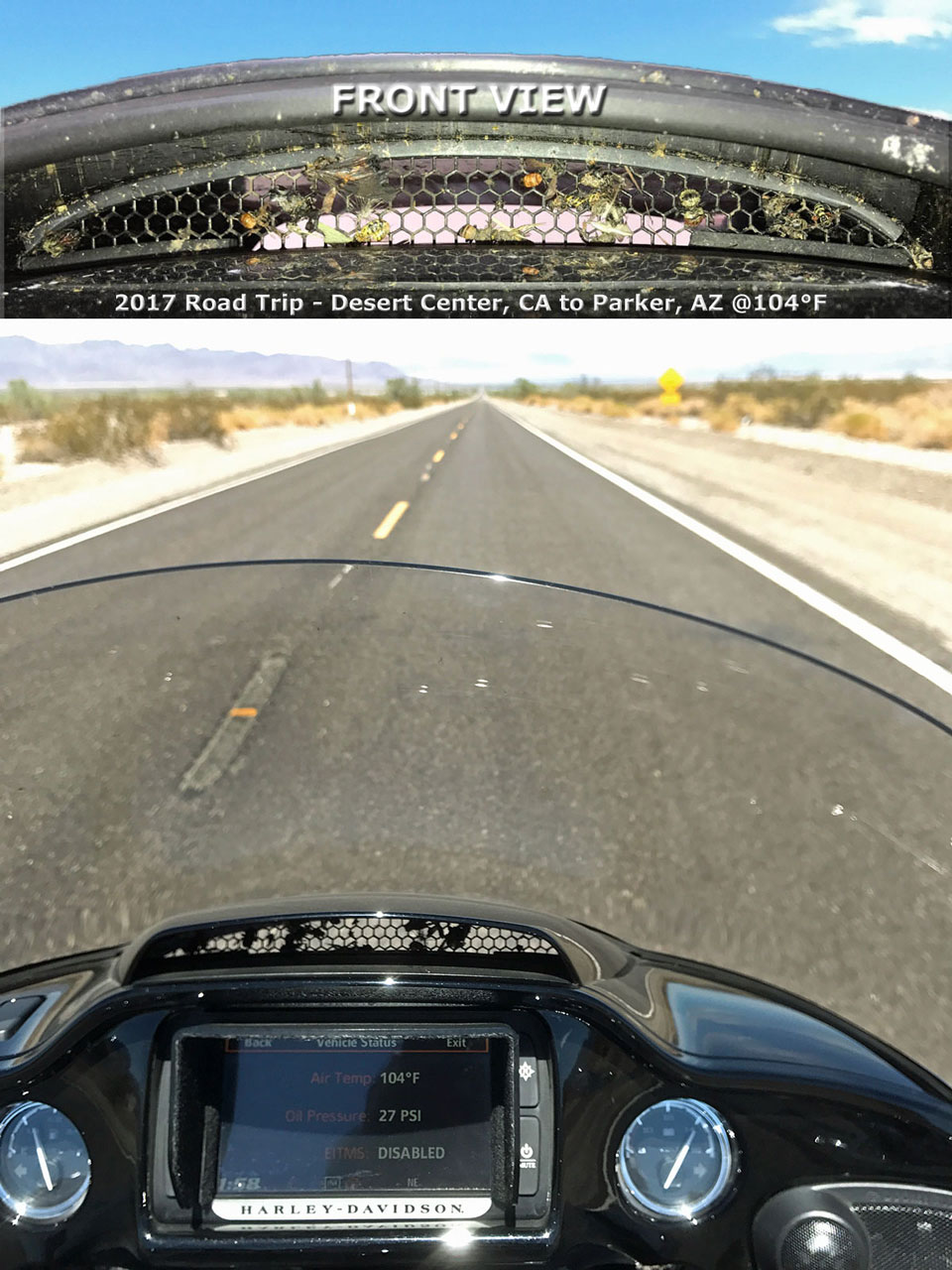 Prior to the availability of a viable Center Vent Screen solution, ROAD GLIDE owners who'd previously purchased (or made their own) SIDE VENT SCREENS had wondered whether the number of bugs passing through the unscreened CENTER VENT was significant. Others had referred to the Center Vent as a "Bug Funnel"! In any event, THE ABOVE PHOTO SHOULD CLARIFY THE REALITIES!
---
ROAD GLIDE Center SPLITSCREEN –

Unique Attachment Solution
The design of the RUSHMORE Road Glide® AIR DUCT proved quite challenging for installing a vent screen securely as we're dealing with a "funnel shaped" passageway which offers few (if any) obvious points for firm attachment of the screen. It took a considerable amount research and "trial and error" to produce a solution which remains reliably secured at touring speeds! The UNIQUE ATTACHMENT METHOD we've developed which secures our Center SPLITSCREEN (both top and bottom) is PROPRIETARY and therefore (in fairness) offered only to CUSTOMERS who are "riding with us". Accordingly, each Buyer receives a post-purchase email containing a helpful support document (appropriate pages from the Harley-Davidson® Service Manual) as well as a PASSWORD for access to our Center SPLITSCREEN SUPPORT page. Along with the option to contact us directly, this valuable information provides our CUSTOMERS the support to which they're entitled! Pre-Order QUESTIONS? A PASSWORD is Not Required to view an "overview" version of the installation video: Installation SYNOPSIS
A matching set of Triple SPLITSCREENS is your best option, however we're now offering the Center SPLITSCREEN individually on our

STORE

page.
---
The ROAD GLIDE Top Vent Screen (Center SPLITSCREEN) is the centerpiece of our Triple SPLITSCREENS package
Available in

Powder Coated GLOSS BLACK or GLOSS SILVER Clear Aluminum Finishes.
---
A message from the President of Elegant Solutions Inc. dba Motorcycle Vent Screens: The Harley-Davidson® Road Glide® became my favorite touring motorcycle the first time I rode one! The "Shark Nose" frame mounted fairing offers both high speed stability cutting through the air at touring speeds as well as low speed maneuverability with the handlebars "free" of the weight of the fairing. My BSR (back seat rider) wife is extraordinarily comfortable riding with me and considers this bike to be a "limo on 2 wheels"!
Elegant Solutions Inc. is not affiliated with Harley-Davidson®. The terms: Harley-Davidson®, Road Glide® and Harley® are trademarks of the Harley-Davidson® Motor Company. The 3-screen complete solution described herein is termed "Triple SPLITSCREEN(S)". "SPLITSCREEN(S)" and "Triple SPLITSCREEN(S)" are terms coined by Elegant Solutions Inc.