Touring Colorado on your Road Glide
Touring Colorado on your Road Glide®
From the "Ultimate Colorado Road Trip" article below which, when clicked on, opens in a new window: "Colorado has 26 designated scenic byways, 11 of which are America's Byways. That means Colorado holds more nationally recognized byways than any other state." The article is from an automobile perspective and it's clear that touring Colorado on your Road Glide is the far superior option. We know that enjoying a Road Trip from inside a vehicle is comparable to enjoying the scenery on television! (why we call them "cages")
QUESTION: What's the connection with Elegant Solutions Inc dba Motorcycle Vent Screens? And why should you do business with us?
ANSWER: We know Motorcycle Touring ... we know QUALITY …and we know you'll be delighted with our protective screens! Our screens are proudly made in the USA with materials manufactured here! We're located in Grand Junction on Colorado's Western Slope (of the Rocky Mountains) in the center of some of the most scenic motorcycle roads in the Western US (if not the world). For a taste, we provide a link to a corroborating article by Cori Anderson which appeared in 303Magazine.com (accessible by clicking on the image below):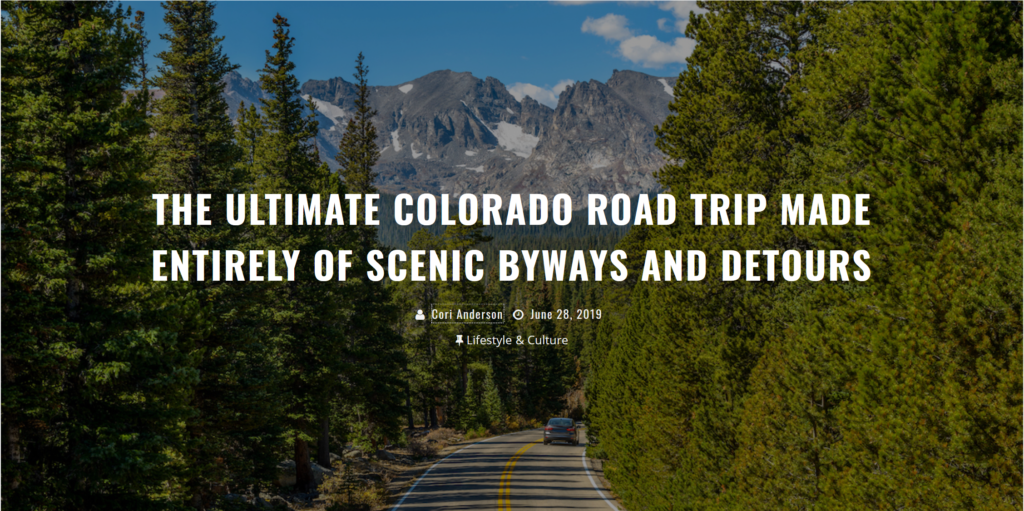 Touring Colorado on your Road Glide
Click on the "view larger map" symbol [ ] (upper right) to view a convenient Full Screen map summary which appears in the article (opens in a new window):
Touring Colorado on your Road Glide
---
A message from the President of Elegant Solutions Inc. dba Motorcycle Vent Screens: My very first "Touring Bike" was a Batwing FLHTK Ultra Limited and I loved riding it. However, the Harley-Davidson® Road Glide® became my favorite touring motorcycle the first time I rode one! The "Shark Nose" frame-mounted fairing offers both high speed stability cutting through the air at touring speeds as well as low speed maneuverability with the handlebars "free" of the weight of the fairing. My BSR (back seat rider) wife is extraordinarily comfortable riding with me and considers this bike to be a "limo on 2 wheels"! Elegant Solutions Inc. dba Motorcycle Vent Screens is not affiliated with Harley-Davidson®. Terms such as: Harley-Davidson®, Road Glide® and Harley® are trademarks of the Harley-Davidson® Motor Company. They are only used here for descriptive, informational purposes and displayed either with the ® designation or in CAP's (an alternate method of displaying the "®" designation). The 3-screen complete solution described herein is termed "Triple SPLITSCREENS". "SPLITSCREEN(S)" and "Triple SPLITSCREENS" are terms coined by Elegant Solutions Inc.