Military Discount Coupon and Return Customer Coupon Codes Explained
Military Discount of 10% offered for Veterans and Active Personnel. Identify your status via the Verification Form below; you'll subsequently be emailed a Military Coupon Code to use at the Checkout screen.

Returning Customers

are offered a 5% Discount. Please use Coupon Code: "REPEAT CUSTOMER" (2 words, all CAP'S, w/o quotes). This code is automatically authorized by matching the email address previously used. If your email address has changed, contact us for an alternate code.
Discount Codes must be entered at the Checkout screen.
United States Military Status Verification Form
[please do not place your order until you receive your coupon code]
MotorcycleVentScreens.com is honored to offer a 10% service appreciation discount for US Veterans and active Military personnel. This discount is offered via a Coupon Code emailed to you following your military status verification. Prior to completing your order, please indicate your military status by completing the status form below. Upon verification, we'll email a Coupon Code to be used during checkout as per the 2-step graphic below. Assuming you'd paused ordering in order to receive your code, you'll then click "Redeem your coupon", enter your Coupon Code and complete your purchase checkout. This is an automated discount programmed to "auto-deduct" from your purchase amount during checkout. Please do not complete checkout until you've received your Coupon Code.

Please qualify your military status by providing the following basic information which will remain confidential. Upon confirmation, your Military Discount Code will be emailed to the address you provide. IMPORTANT: the automated discount only functions during checkout from this factory-direct website, therefore, please be sure to enter your Coupon Code prior to clicking "Checkout". Upon receipt, be prepared to use your discount code within 48 hours as each Coupon Code has an expiration timeframe:
---
NOTES:
If you don't receive our COUPON CODE reply via email within 24 hours, our response may be in your SPAM folder. Or something else may have gone wrong in which case please request your MILITARY DISCOUNT via a text message to the cellular number on our CONTACT PAGE (please include the information requested by the form). Optionally, a text notification of our emailed response is sent to the cellular number you provided.
Discount is valid using COUPON CODE during checkout on new SPLITSCREEN orders only. Your 10% Coupon Code Discount is programmed to auto deduct from the amount in your shopping cart (i.e., cannot be applied retroactively).
We control our costs via our automated order system which, for FREE** USA shipping, includes our prompt creation of pre-paid shipping labels. **Nothing is FREE of course. The reality is that our pre-paid USA shipping costs are INCLUDED in your purchase price.
Requesting a Military Discount after an order has begun processing may only be accommodated by immediately canceling your order prior to our purchase of your shipping label (with tracking number). After canceling, submit the Military Service Status form, then reorder after receiving your COUPON CODE.
Alternately, you may remit the Military Service Status Form after we've begun processing your order. Upon verification, we'll credit your account the 10% amount towards your next purchase. (Attempting to refund the 10% amount has been problematic and seemingly "takes forever").
We can accommodate one discount per order (i.e., cannot be combined with quantity discounts).
THANK YOU FOR YOUR SERVICE!
---
How to Redeem you Coupon Code: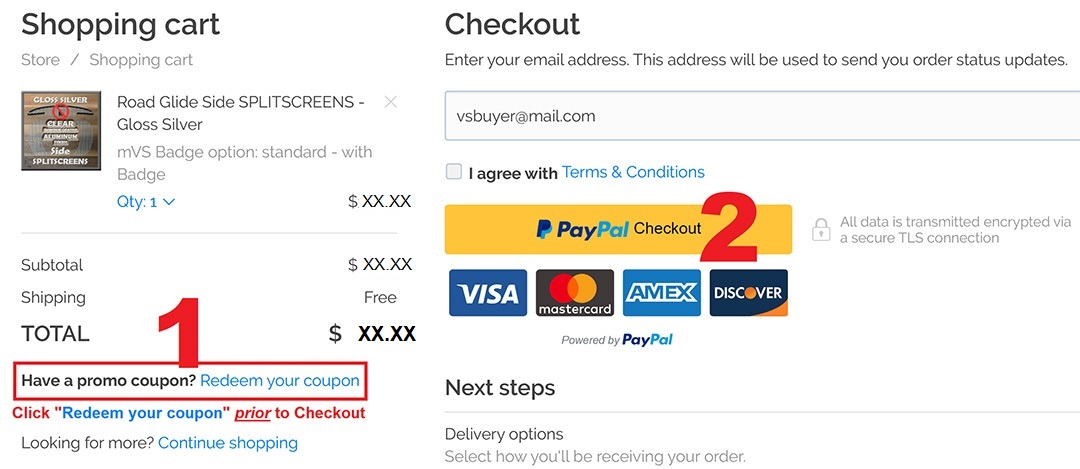 ---
A message from the President of Elegant Solutions Inc. dba Motorcycle Vent Screens: My very first "Touring Bike" was a Batwing FLHTK Ultra Limited and I loved riding it. However the Harley-Davidson® Road Glide® became my favorite touring motorcycle the first time I rode one! The "Shark Nose" frame-mounted fairing offers both high speed stability cutting through the air at touring speeds as well as low speed maneuverability with the handlebars "free" of the weight of the fairing. My BSR (back seat rider) wife is extraordinarily comfortable riding with me and considers this bike to be a "limo on 2 wheels"! Elegant Solutions Inc. dba Motorcycle Vent Screens is not affiliated with Harley-Davidson®. Terms such as: Harley-Davidson®, Road Glide® and Harley® are trademarks of the Harley-Davidson® Motor Company. They are only used here for descriptive, informational purposes and displayed either with the ® designation or in CAP's (an alternate method of displaying the "®" designation). The 3-screen complete solution described herein is termed "Triple SPLITSCREENS". "SPLITSCREEN(S)" and "Triple SPLITSCREENS" are terms coined by Elegant Solutions Inc.