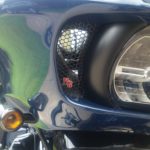 Really pleased. This was one of my favorite projects. Easy install, disappointingly quick, I was able to make the project last an hour lol. If you have any level of skill set, this project is well within your reach. It sounds and may look complex, but it's really not.
Some observations; newbie or experienced. Watch all the videos twice. Enough so you can visualize it during your work effort. More importantly, prep your work area ahead of time. Have a landing zone for parts coming off.
This [Triple SPLITSCREENS install] was too [much] fun. I am sincerely impressed.
Woody