Great product and outstanding Customer Service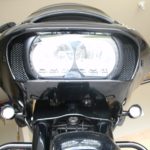 I ordered a set of Triple SPLITSCREENS – GLOSS BLACK Finish back in January and it appeared that the USPS had lost the package. I emailed Dennis and without hesitation he sent me another set. I did receive the first shipment the day before the replacement arrived so I returned the replacement.
I finally got around to installing these with a new windshield and some other parts. Installation was easy if you follow the instructions on the website for the center screen. Very happy with the product and the way the bike looks with the screens installed.
Mike Horn