HARLEY Motorcycle ROAD GLIDE Vent Screens – ROAD GLIDE Triple SPLITSCREENS – Batwing SPLITSCREEN
👀 THE

Motorcycle

V

ent

S

creens

DIFFERENCE 👀

Full 3-Screen Solution
Double-Strength USA Quality
Elegantly Effective
Fairly Priced
(Click for 1:48 informational video)
---
Answers to common concerns are presented from

Customer Reviews
---
Q: HOW DIFFICULT IS THE INSTALLATION?
🤔Show

Me –

1-2 hours

E-Z install

. Amazing fairing upgrade

! – Show Me🤔
Q: THEY'RE NOT CHEAP ….ARE THEY WORTH THE PRICE?
🤔Show

Me –

Are they reasonably priced? What's the value? – Show Me🤔
Review this "VALUE CHECK"  visual comparison to our primary competitor

¹

, then read our

CUSTOMER REVIEWS

to understand why our SPLITSCREENS represent "the best bang for your buck"!
¹Klock Werks® at a similar price-point offers only a 2 (side) screen set which doesn't compare favorably to our full 3 screen set (photo below). Their black screens are "anodized black", a non-glossy matte finish which can be difficult to clean/remove bug-bodies from.
NOTE: Klock Werks® makes excellent motorcycle windshields and is the other major commercial supplier of honeycomb Road Glide® vent screens (they offer side screens only, i.e. no center vent screen is available).
---
Q: WITH A WINDSHIELD & FAIRING …WHAT COULD POSSIBLY HAPPEN?!?
🤔Show Me – My RG fairing protects me,

d

o I really need more? – Show Me🤔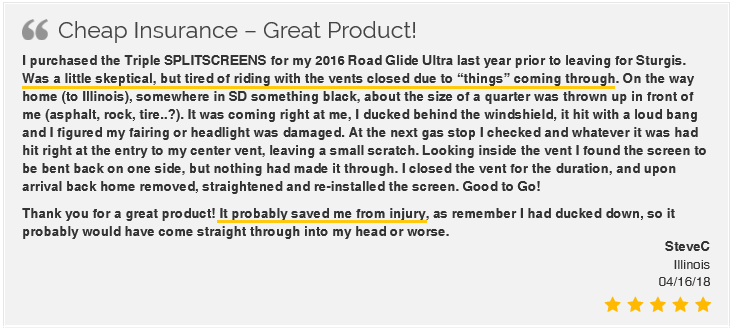 Q: WHAT'S COMING THRU MY VENTS THAT SHOULD CONCERN ME?
😲A picture is worth a thousand words!😲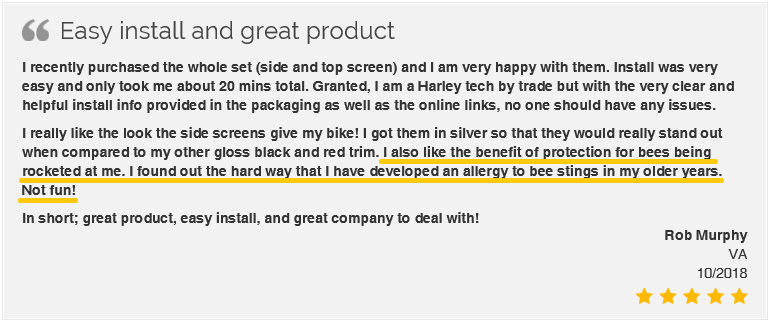 ---
You probably bought your fairing-equipped Road Glide® for more than just its "hot looks"!
Some owners may have purchased their Road Glide® primarily for the outstanding "looks" of its fixed-frame fairing. Those owners who purchased their Road Glide® primarily for touring & cruising however, also appreciate the comfort & protection that fairing offers from road debris and large insects! Much of that protection "went away" in 2015 with the re-designed ventilated fairing which solved the cockpit buffeting problem; but at the expense of rider protection! While exposure to debris and large insects is an annoyance to some, many motorcyclists are ALLERGIC to WASP/BEE STINGS, a much more serious issue!
HARLEY Motorcycle ROAD GLIDE Vent Screens – ROAD GLIDE Triple SPLITSCREENS – Batwing SPLITSCREEN
---

Symbol of Quality! The only Road Glide®

V

ent

S

creen manufacturer proud enough to "put our name on them" (optional at purchase)!
---
ROAD GLIDE Fairing with Triple SPLITSCREENS => No Cockpit buffeting plus protection from the "Bugs in Your Teeth" experience;
This is how touring/cruising on a fairing equipped motorcycle was intended!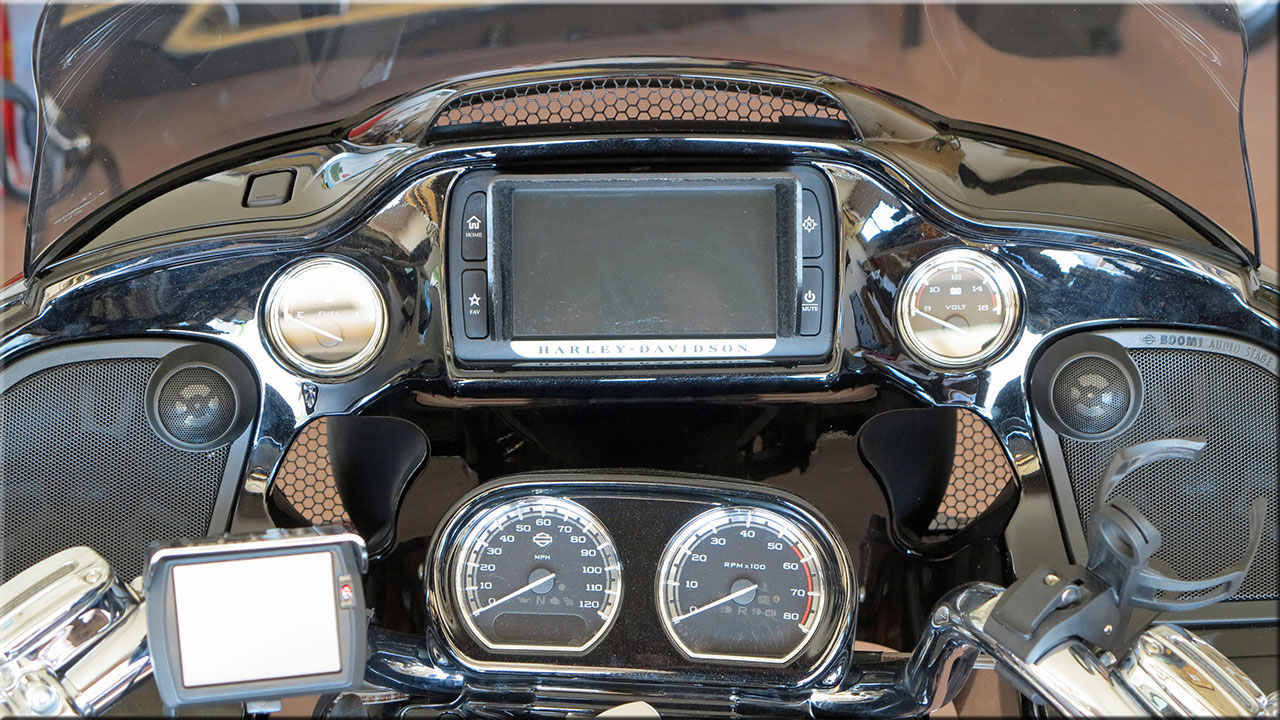 The Road Glide® ventilated fairing is a brilliant design which minimizes cockpit buffeting! During touring season however, the vents act like "BUG FUNNELS"!
---
If your concerns/questions have been answered satisfactorily, click on over to the

STORE PAGE

.
Otherwise please

contact us

for more information.
---
A message from the President of Elegant Solutions Inc. dba Motorcycle Vent Screens: My very first "Touring Bike" was a Batwing FLHTK Ultra Limited and I loved riding it. However the Harley-Davidson® Road Glide® became my favorite touring motorcycle the first time I rode one! The "Shark Nose" frame-mounted fairing offers both high speed stability cutting through the air at touring speeds as well as low speed maneuverability with the handlebars "free" of the weight of the fairing. My BSR (back seat rider) wife is extraordinarily comfortable riding with me and considers this bike to be a "limo on 2 wheels"! Elegant Solutions Inc. dba Motorcycle Vent Screens is not affiliated with Harley-Davidson®. Terms such as: Harley-Davidson®, Road Glide® and Harley® are trademarks of the Harley-Davidson® Motor Company. They are only used here for descriptive, informational purposes and displayed either with the ® designation or in CAP's (an alternate method of displaying the "®" designation). The 3-screen complete solution described herein is termed "Triple SPLITSCREENS". "SPLITSCREEN(S)" and "Triple SPLITSCREENS" are terms coined by Elegant Solutions Inc.