Road Glide Vent Screens Reviews. Customers comment about Product Quality, installation experience and the performance of their Triple SPLITSCREENS.

Road Glide Vent Screens Reviews. Writing a review requires effort and we're grateful 96% of our Customers honored us with 5-Star ratings for product quality and performance as well as for ease of installation of their

Triple SPLITSCREENS

.
Triple SPLITSCREENS Installation
I was having an issue and called the number on the card. He called right back and helped me through the process. Having purchased the screens 9 months earlier, I'd forgotten about the instruction sheet showing the link to the installation video. Once I watched the video tutorial, installation was easy. These Triple SPLITSCREENS work great!
Jeff Lewis
South Haven, MI
8/2020
Installation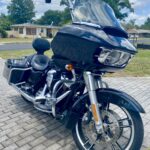 Fantastic product and very quick delivery. After watching your instruction video and slides this job was a breeze. Thank you.
Peter
Winter Park
5/2021
Solid product, easy install
This is a functional and aesthetic upgrade for your Road Glide. Installation is easy, especially with the written and video instructions provided by the manufacturer.
Dean L.
Iowa
March 2021
Great Looking Product!
These Vent Screens were very easy to install (DIY) on my 2021 Road Glide. They really look exceptional and fit perfectly! I recommend this product to everyone with a Road Glide that wants to dress up the gaping tunnel holes in the sides of their fairing. 5+ Stars!!!
William DeLisle
Inverness, Florida
4/2021
Impressed!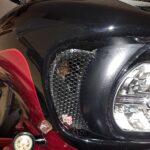 I just finished installing my triple vent screens on my 2020 Road Glide Limited. I am impressed. The product is good looking, in the package and especially on the bike. Definitely improves the look. I did the install myself, no help, in about an hour. If you are familiar with fairing removal, it would probably take less time. If you hate bees, at least up close, as much as I do you will make this purchase.
Jeffrey Guyer
Pittsfield, MA
1/21
Quality product and great service
Installed these due to frequent stings from bees and yellow jackets on rides. Was great seeing them stuck ahead of the screens rather than hitting me. Quick and easy installation for sure.
Unfortunately, was in an accident where the center screen was crushed and needing replaced. Couple emails between Dennis and I and a new replacement screen was ordered and on its way. Fast and great customer service. Would definitely recommend.
John Wawruck
Roy, WA
11/20
Quality & Outstanding Service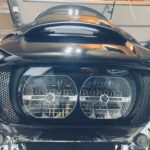 When I opened the package I was pleased to see how well this screen was built. It does provide a more sturdier screen than K-W, no doubt! Finally, someone creating something with step by step instructions on how to install. Thumbs up on this solid triple screen set for my 2020 Road Glide!
Eli Santiago
New Jersey
October 15, 2020
Great product
[Repeat Customer] Just ordered a second set for 2020 Road Glide. Had a set on my 2015 Road Glide for 3-4 years. No problems with fit, finish, function.
Larry
Salt Lake City, Utah
10/20
Little nervous
Really liking the look of the screens; little nervous on center screen; the clip idea just not feeling secure; took few times to get it to hold but we shall see; great look, great quality, would recommend.
Lewis
Arden NC
O8/2020
Triple SPLITSCREENS for Road Glide Work Awesome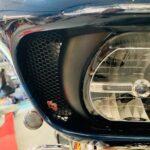 The Product is excellent, looks great and Functions perfectly. Dennis was very helpful, shipping was fast,
this was my second set! They are a must have for a Road Glide!
I have 2 other people in our group that need these screens, sent them a link, they will be ordering! Cheers! Joe.
Joe Hewer
Penticton BC, Canada
08/2020
What a great product!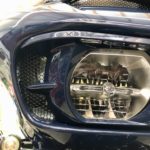 Got the 3 piece black set for my 19 Road Glide Special as a Father's Day gift from my wife. Super easy to install and they look like they came from factory. Extremely well made product and very clear install instructions made this a great 1 hr project. Finally no more bugs getting funneled right at your upper body at 70mph.
Nate
Hocking Hills, Ohio
6/2020
Great Product!
I'm not one that normally writes reviews, but this just saved me thousands of dollars in hospital bills. I had a bird fly into me at 60mph today and it would have hit me in the face if it wasn't for the vent screen. Well worth the money!
2018 Road Glide Special
Kirk D.
Maggie Valley, NC
6/20
Better than advertised and fantastic support!
Quality product at a great price point. Installation was simple thanks to the instructions provided.
Brad
Murfreesboro, TN
March 2020
Fantastic Product
Ordered the gloss black set for my 2016 RGU, easy install and really looks great! Will be happy to cut down on the bug-in-the face LOL. These are really the best screens available at any price.
KennyD
Westminster, MD
4/2020
Great Product
Installed on a 2020 Road Glide Limited with no problems. Put a couple hundred miles on it, but since it is so early in the season no bugs out yet. I was worried about possible wind noise through the screen but they are very quiet. They look good matching the honeycomb pattern of the speaker grills. I opted for gloss black to match the gloss black of my bike. Will update once I have more miles with bugs and debris to see how they filter them out.
Shopping, purchasing, and shipping was all effortless. This company is a pleasure to do business with. I would not hesitate recommending to anyone.
David Kesner
Boise, Idaho
March 2020
2020 Road Glide Triple Vent Screens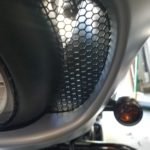 I recently purchased the triple vent screens and they installed very easy. You don't even notice the screen because they match the motorcycle perfectly. I noticed the difference immediately because I didn't have any debris coming up and hitting me. Great product!
Dan
St. Louis, Missouri
3/20
dont wait, buy the set..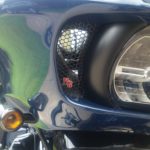 Really pleased. This was one of my favorite projects. Easy install, disappointingly quick, I was able to make the project last an hour lol. If you have any level of skill set, this project is well within your reach. It sounds and may look complex, but it's really not.
Some observations; newbie or experienced. Watch all the videos twice. Enough so you can visualize it during your work effort. More importantly, prep your work area ahead of time. Have a landing zone for parts coming off.
This [Triple SPLITSCREENS install] was too [much] fun. I am sincerely impressed.
Woody
Central Texas
03/20
Excellent Addon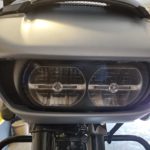 This addon is a great and simple way to change the look of your bike. Not to mention the protection it gives from road debris and bees. Install is a breeze even for someone like myself that is new to the Harley scene and has never owned one before. (Former sport bike rider)
Definitely something I would recommend and purchase again  ……
W. Brown
Columbus, Ga
02/20
Excellent Road Glide Accessory
After purchasing my new 2019 Road Glide Ultra, it quickly became apparent that some protective measures were needed to address the debris and insect[s] passing through the upper and lower fairing vents. After researching the topic on several RG forums, I found the triple vent system offered by Elegant Solutions, as well as several others. After comparing price, quality and features, I purchased the silver colored set of screens. Delivery was fast and installation was straightforward using the online videos provided to their customers . I'm extremely happy with the vent [screens], from both a functional and an aesthetics perspective, and I've received numerous compliments on them. I highly recommend these and would purchase again in a heartbeat if the need arose.
Keith Rabun
Driftwood, Texas
06/19
Quality!
I am a convert from Street to Road Glide ….and bought to tour with. ….wear a half helmet ….and right away notice ….I would take a bug right on the forehead between my glasses and the helmet. ….(even though windshield) is high. Figured out what you RG'ers already know. Fricken top vent. Opened up side vents and …… bee right up the sleeve!! I thought surely someone has figured out a solution so started looking. The crap I found was not going …on my "immaculate" 2015 CVO! I found Dennis' (MotorcycleVentScreens.com) and decided to give them a shot. ….I watched the video and ……installed this morning ….install was a piece of cake. …..But the real plus is the quality of the product after install. Not only does it match the quality of my ride, it enhances it. ……My son has 2019 RG ….pops is gifting him a set and he will very much appreciate it. Don't waste your money on the crap out there ….buy this!!!! You will be happy you did. Well done Dennis.
Cary
Colorado Springs, Co
September 2019
Great Product
I ordered and installed the 3 piece vent screen set for my 2017 Road Glide Special and it's been a great addition to the bike. Now I don't need to worry about the critters or road debris getting thru the vents and into me. I should have done this sooner but after reading some great reviews on the RoadGlide.org site I was hooked. You definitely need this for a great addition to your riding as well as safety.
Scott Herod
Todd NC
4/2019
Well done solution.
After getting hit in the face with some kind of large, hard bug, I searched for some screens and found several. Problem was that there were several folks that sold screens for the left and right Road Glide ducts, but not for the center. That's were the big bug came from, so that's what I wanted. I found Elegant Solutions and ordered a the 3 piece set. Install went smooth and easy. Most time consuming part was removing the outer fairing. I did install the center screen a little differently. Install video says to do the first part of the install on the bike. I didn't do it that way. I removed the duct assembly and did the whole job with the duct off. It was easier for me. I'd recommend doing it that way.
Order was delivered very quickly and I had no issues with it. Works great (first day out the center screen caught a yellow jacket wasp). I'm pleased and would buy from Elegant Solutions again.
Thanks
David P Killeen
Waskom, TX
05/19
Quality product BUT center screen install was very difficult
We installed these last week, side vents install was super easy but my buddy says that center screen install was friggin PITA….he finally got it after watching the install video…. [Ed note: there are clear instructions to watch installation video first🙄 ….reached out to assist this customer but no response]
Bryan House
Olney, IL
12/18
Easy to install and a great product!
I have a 2019 Roadglide Special and just put these Triple SPLITSCREENS on today. I love how thorough the instructions are. They include a complete written instruction, a video and a slideshow. It is also nice that it is 100% American made.
Shawn W
St Johns FL
March 2019
"AWESOME"
I had searched high & low for grills and screens after taking 2 direct bee hits inside my shirt.After doing the research I settled on your screens.  It took me a little longer to install the screens. I'm a little OCD when it comes to my bike! The top vent took a little more finesse to get it right.  Couldn't be happier with the look of the black screens inside the vents!
Could've gone cheaper, but hind sight is 20/20 and I know I wouldn't have been happy with glue in type.  If you are in the market for some bug shredders, these are the guys to get them from.
Woody English
Jermyn, PA.
01/19
Cheap Insurance – Great Product!
I purchased the Triple SPLITSCREENS for my 2016 Road Glide Ultra last year prior to leaving for Sturgis. Was a little skeptical, but tired of riding with the vents closed due to "things" coming through. On the way home (to Illinois), somewhere in SD something black, about the size of a quarter was thrown up in front of me (asphalt, rock, tire..?). It was coming right at me, I ducked behind the windshield, it hit with a loud bang and I figured my fairing or headlight was damaged. At the next gas stop I checked and whatever it was had hit right at the entry to my center vent, leaving a small scratch. Looking inside the vent I found the screen to be bent back on one side, but nothing had made it through. I closed the vent for the duration, and upon arrival back home removed, straightened and re-installed the screen. Good to Go!
Thank you for a great product! It probably saved me from injury, as remember I had ducked down, so it probably would have come straight through into my head or worse.
SteveC
Illinois
04/16/18
Triple SPLITSCREENS for the Road Glide
I just finished installing the Triple SPLITSCREENS on my 2019 Road Glide Ultra and they look awesome. I purchased the black style because I do not like extras showing on my bike. If you do not know they are there you would believe the bike is stock and that was what I wanted. I saw another Road Glide at the dealership that had the three Kuryakyn screens and they not only could be seen across the parking lot but they looked like a cheap add-on.
Installation was very simple. In fact it took longer to read the instructions and watch the videos than it took to install them.
Thank you Dennis for providing a great product. I give the Triple Screens a BIG Thumbs up with a Five (Plus) Star rating.
I would include a photo – but what's the point – you don't notice them.
Roy Painter
Jonesborough, TN
02/06/2019
Easy Install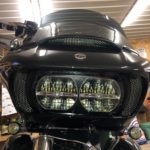 Easy to install ……great product!
Mike
Monterey, IN
1/2019
2017 Road Glide Upper Vent Screen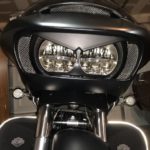 Top notch Design and easy install.
Took only about 30 mins start to finish and I was taking my time.
Can't wait to take my Glide on a long ride to really try it out.
My package was lost and they sent me out another vent screen to make it right.
Great customer service!
Tommy
Forney, TX
December 2018
Road Glide Center Vent
Vent screen arrived in excellent condition….Read all instructions and looked at the video ….All set, well the stickie (ed: protective film) on the locator pad would not separate ….Living in the south I know when things get warm they don't always do what ya want….Got about half of it off and it stuck on the vent top so I hope it stays there…. install went well after that…very nice well thought out piece…..very well engineered….Looks great installed….Thanks
Garry Euler
Sebring,Fl.
12/2018
Easy install and great product
I recently purchased the whole set (side and top screen) and I am very happy with them. Install was very easy and only took me about 20 mins total. Granted, I am a Harley tech by trade but with the very clear and helpful install info provided in the packaging as well as the online links, no one should have any issues.
I really like the look the side screens give my bike! I got them in silver so that they would really stand out when compared to my other gloss black and red trim. I also like the benefit of protection for bees being rocketed at me. I found out the hard way that I have developed an allergy to bee stings in my older years. Not fun!
In short; great product, easy install, and great company to deal with!
Rob Murphy
VA
10/2018
Superb Vent Screen Product for my Road Glide!
Received your superb vent screen products just a few days after ordering. Your instructional videos are quite helpful and comprehensive. Rare that a needed product does the job effectively at a reasonable price point with outstanding customer service and follow up, thank you very much.
Tom Mitchell
West Farmington, OH
July 2018
Road Glide Vent Screens
Purchased a set of SPLITSCREENS for my Road Glide. They look great and arrived very quickly. Already saved me from a few nasty bugs. Great product. Thanks
Pacerman1
Fremont, NE
June, 2018
Great product
High quality screens, came with great instructions which made install easy. They look good on the bike and prevent bugs and debris from coming thru.
Dhenke
Cypress, Tx
7/18
Great Product
Amazing product, craftsmanship is top grade. The instructions and videos for the install on the vent screens were very detailed. I would recommend this product to anyone with a Rushmore style Road Glide. The cost for the 3 screens was what the competition charges for 2. I can say first hand it does a great job of stopping bugs. Thanks for the Triple SPLITSCREENS Denny.
Randy Bechel
Rochester, MN
June 2018
Thanks for a great product
Triple SPLITSCREENS are a breeze to install. Fast shipping, lots of communication/info regarding the install. Video for the center screen was spot on. Thanks for a great product.
Frederick Berger
Lehigh Acres, FL
June 2018
Don't leave home without them 😎
Dennis tells me I was the very first one to purchase these vent screens back in June 2017 when he started the business . I originally purchased a different set from another company but they didn't have the top screen and they were pretty thin so was not happy until I found Elegant Solutions. This is a great product very sturdy and practical I recommend it to all my fellow RGN Riders . Thanks Dennis for coming up with a very good and practical product 😎 Highly recommended unless you're a honey badger ! cuz Honey Badger Don't Care ! LOL
Conrad
Chicago, IL
June 2017
Batwing SPLITSCREEN – 5 Stars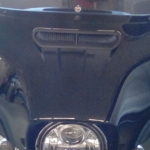 Glad I found your web site, because the competition didn't have a black screen for my Electra Glide. Product arrived in 3 days, and looks great. Install was a breeze, and took about 20 minutes. Thanks for the great product.
Richard
Fargo, ND
June 2018
No More Yellowjackets!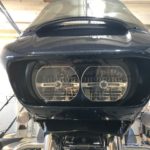 After doing my due-diligence in researching options for vent screens for my 2016 HD Road Glide Special I decided on the SplitScreens from Elegant Solutions. My reasons were their beefy appearance, powder coating and wealth of information on their website. I also liked the fact that Dennis was accessible for questions, which I had a few. ……Thanks Dennis for your help and great product. ~Dan
Dan Schmidt
Hanover, PA
June 2018
Great Addition
I installed the Splitscreens on my '17 Roadglide Ultra. Now that I have ridden a few thousand miles with them, I can say they are great! I find so many bugs in them at the end of each ride that would otherwise be in my face. The installation was pretty simple and straightforward. The quality is great. I have seen others making them out of other materials that aren't as thick or sturdy. Dennis is also the only one I know of that is making the center vent screen. They look great, the honeycomb pattern matches the pattern on the speaker grills. They work great, and I highly recommend them to other Roadglide owners!
Maurice Woehrle
Bedford, Texas
01-2018
Batwing Vent Screen
Part arrived in just a few days, easy to install, works great.
Jim Whitaker
Corinne utah
May /2018
If the the best rating is 5 Stars, give this product a 6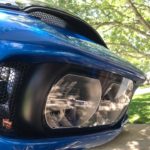 Great Product! Instructions and video help made installation a breeze.
Alex Hernandez
Baytown, Texas
1/2018
Triple Vent Screens Awesome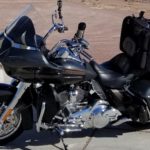 I will keep this very brief…..I have a 2016 Road Glide CVO…..these screens are perfect. I am very, very happy. Dennis also lended a little extra hand that I needed but these are perfect. Buy them!
Rick Lambert
Rancho Cucamonga CA
March 2018
Great product and outstanding Customer Service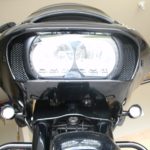 I ordered a set of Triple SPLITSCREENS – GLOSS BLACK Finish back in January and it appeared that the USPS had lost the package. I emailed Dennis and without hesitation he sent me another set. I did receive the first shipment the day before the replacement arrived so I returned the replacement.
I finally got around to installing these with a new windshield and some other parts. Installation was easy if you follow the instructions on the website for the center screen. Very happy with the product and the way the bike looks with the screens installed.
Mike Horn
Rosenberg, TX
Jan/2018
Awesome products
I've bought Klock Werks screens, for my Road Glides, in the past, but the SplitScreens are the bomb!! Much heavier gauge material, they already come powder coated and you get the center vent [3rd screen], all for the same price as Klock Werks [2 screens]. I would highly recommend SplitScreens to anyone wanting a high quality product at an economical price!!
Michael Vance
Marysville Ohio
1/3/2018
they are very well made
I just received my screens today and think they are very well made. Thank you from Tom Bonasse
Thomas Bonasse
Presque Isle, MI
1/2/18
These are very high quality
Have them on my 16 RGU. These are very high quality and very easy to install. Took less than an hour and that included removing and installing the fairing.
Dale Hagan
Aubrey, Texas
12/2017
Best Screens on the Market
Best screens on the market and definitely the best bang for the buck!
Jim Pierce
Charleston, West Virginia
12/2017
Great product
Received my screens very fast, installation was easy. Quality product that looks fantastic!
John Charette
Lincoln University. PA
11/1/17
Why I purchased the triple vent screen system.
I love my Road Glide. Have owned a 2012 model without vents and have recently bought the 2017 Milwaukee 8 model and it is fantastic. The changes to the fairing are awesome.. love the extra airflow…the vents not only direct lovely cooling air at the rider but every insect seems to find their way through the vents and aim squarely at my chest and face. Then I got stung on the cheek by a bee…
Steve Hobbs
Hunter Valley, New South Wales, Australia.
10/17
Great fit! I'll recommend you guys!
I just got the top vent installed. Took 2 minutes, while my gf was "helping" and, talking to me. Vent works. Easy to use. Great fit! I'll recommend you guys!
Spenser Pierce
Avon, IL
10/7/2017
Makes the front look much better
So easy to install a caveman could do it! Very good idea. Should come from the factory already installed.
Kevin c McDermott
Westerlo N.Y.
09/17
I'm HAPPY, HAPPY HAPPY !!!!!!!!!!!!
Awesome product !!!!!!!!!!!!
Dennis, please feel free to post my review that I sent you tonight !!!!!!!!!!
Product Review:
I just wanted to let your potential customers know of my experience with this fine company.
Matthew C.
Amherst, Ohio
7/2017
Road Glide Vent Screens Reviews - Triple SPLITSCREENS Customer Reviews
Summarizing our Road Glide Vent Screens reviews, our customers have appreciated product quality, good looks of the Triple SPLITSCREENS and the remarkably easy and reliable Center SPLITSCREEN installation. Our unique and proprietary attachment  design keeps our Center SPLITSCREEN securely in place, even at triple digit highway speeds and allows normal operation of the vent closure flap. No unreliable friction fit or displacement of fairing panels are used to secure the screen. And our neoprene rubber trim keeps potentially sharp screen edges from damaging your bike's finish.
Road Glide Bug Screens Reviews - Triple SPLITSCREENS Customer Reviews
---
A message from the President of Elegant Solutions Inc. dba Motorcycle Vent Screens: My very first "Touring Bike" was a Batwing FLHTK Ultra Limited and I loved riding it. However the Harley-Davidson® Road Glide® became my favorite touring motorcycle the first time I rode one! The "Shark Nose" frame mounted fairing offers both high speed stability cutting through the air at touring speeds as well as low speed maneuverability with the handlebars "free" of the weight of the fairing. My BSR (back seat rider) wife is extraordinarily comfortable riding with me and considers this bike to be a "limo on 2 wheels"! Elegant Solutions Inc. is not affiliated with Harley-Davidson®. The terms: Harley-Davidson®, Road Glide® and Harley® are trademarks of the Harley-Davidson® Motor Company. The 3-screen complete solution described herein is termed "Triple SPLITSCREEN(S)". "SPLITSCREEN(S)" and "Triple SPLITSCREEN(S)" are terms coined by Elegant Solutions Inc.